Palestinian hope and caution over Hamas-Fatah deal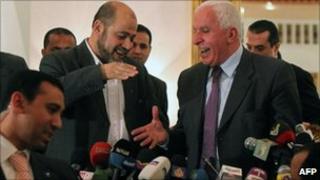 On the streets of Ramallah on Wednesday night there was the sound of celebration.
Car horns blared. There was singing and flag waving to mark the fact that a great rivalry had been apparently settled.
Barcelona beat Real Madrid 2-0.
Palestinians, who love Spanish football, poured out of the West Bank town's bars and cafes after watching the Champions League Semi Final on big screens.
Meanwhile, on another channel, another rivalry was apparently settled.
Leaders from Hamas and Fatah gave a news conference behind a forest of microphones in Cairo to announce that, after secret talks, a unity deal ending four years of division will be signed next week.
The news of the Hamas-Fatah deal did not inspire the same level of spontaneous joy as Senors Messi and Co.
However, for most Palestinians who have been crying out for political unity from their leaders, it too will be cause for celebration.
But also a little caution.
Deep divide
First, people in the West Bank and Gaza will be waiting to see if the deal is actually signed in the coming week as promised.
Second, and most importantly, will it actually work in practice?
The agreement aims to have Palestinian presidential and parliamentary elections within the next year.
A lot could go wrong before then.
The split between Hamas and Fatah runs deep. It has been bitter and sometimes violent.
Lives have been lost and for the past four years both sides' security forces have been locking up and persecuting the other.
Will they be able to put their differences aside to back an interim unity government made up of independent politicians tasked with preparing for new elections?
Will there be a sharing of power on the ground, in particular, in terms of security?
It is understood that, initially, Hamas forces will continue to run Gaza with Fatah officers controlling the West Bank.
Then there is Israel, which does not want this deal to happen.
The Israeli prime minister has said Palestinian President Mahmoud Abbas must choose between peace with Israel and peace with Hamas.
For the moment it seems Mr Abbas, frustrated with a stalled Middle East peace process, has chosen the latter.
One senior Palestinian politician closely involved with brokering the deal told me the breakthrough reflected a feeling that US-led peace talks with Israel were going nowhere.
He said American officials had been aware of but opposed to Hamas-Fatah reconciliation, but President Abbas decided to push ahead with it anyway.
He said the European Union had been much more positive about Palestinian unity efforts.
Regional impact
Many will be watching to see how the US and the EU respond.
Both consider Hamas to be a terrorist organisation.
Both give millions of dollars to President Abbas's Palestinian Authority. Will they continue to do so if Hamas now has a say in what happens to the money?
So why did the breakthrough come now?
It seems the current upheaval in the Middle East has played a role.
In recent months, tens of thousands of Palestinians have taken to the streets in Gaza and the West Bank calling for political unity.
The protests, although not on the scale of demonstrations elsewhere, clearly got the attention of Palestinian political leaders.
According to those closely involved in negotiating the deal, the change in leadership in Egypt also had an impact.
One source told me that in the past, former President Hosni Mubarak - under pressure from the US - had been far less enthusiastic about Fatah-Hamas reconciliation than the new Egyptian leadership.
Egypt will be proud of its role in seemingly reaching a deal.
President Abbas will feel the deal strengthens his hand.
Mr Abbas is planning to go to the United Nations in September to try to get official recognition of a Palestinian state based on the 1967 borders.
Militant opposition
But Israel and the United States, which are already opposed to the UN move, are likely to argue that Hamas has failed to renounce violence, strengthening their opposition.
There will also be Palestinians who are opposed to Hamas-Fatah reconciliation.
In Gaza, Hamas faces a small but significant threat from other militant factions who believe the Islamist movement has compromised too much and become too moderate.
Such groups are responsible for much of the rocket fire into Israel.
This month an Italian pro-Palestinian activist Vittorio Arrigoni was kidnapped and murdered in Gaza by al-Qaeda-inspired radical Islamists sometimes called Salafists.
The kidnapping of a foreigner, the first since Hamas came to power in Gaza, was seen as a challenge to Hamas's authority.
Salafists, some of whom are disgruntled former Hamas members, are unlikely to welcome political reconciliation with the secular Fatah party.
For four years Palestinian infighting has been intractable. This is a breakthrough but there remain many obstacles to overcome before Palestinian political unity becomes a reality.