Hamas and Fatah agreement: Your views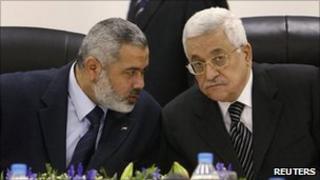 Israeli officials have voiced their disapproval of a reconciliation deal made between Palestinian rivals Fatah and Hamas.
The deal brokered by Egyptian intermediaries states that a temporary government should be put into place before a date is confirmed for elections.
But Israel's Prime Minister Benjamin Netanyahu said the Palestinian Authority could not have peace with both Israel and Hamas.
BBC News website readers have been giving their reaction to the latest developments in the Middle East.
Harry Brand, Tel Aviv
If Hamas renounces its terrorist programme and adopts the peace negotiations track then there may be hope. If, however, Fatah adopts the Hamas line then the Palestinians have taken a big step backwards.
In the past, Hamas' view has been inflexible in that they were not prepared to negotiate with Israel, continuing their hard line.
But Fatah has been more flexible as they have been willing to have negotiations. However, if Hamas supersedes Fatah then there is not much hope.
Hamas has launched rockets on civilian targets in Israel and they consider us the enemy - they want to get rid of us.
But Israel could co-exist with Fatah and come to a two-state solution and have some kind of territorial exchange - we have been very close to this in the past.
Israel has a negative profile overseas but we have a good economic situation, a thriving tourist industry, and free rights in a multi-cultural society - life carries on.
There is a basic mistrust and animosity between Fatah and Hamas, but I think they now want to appear unified in order to win support overseas.
Personally, I have serious doubts if their agreement will hold.
Qasem Khader, West Bank
We need to read between the lines. Every time the Palestinian Authority and Israelis come close to an agreement, Israel comes back and breaks it.
There has been a big increase in house-building in the settlements. I think Israel will take all the land and will then ask, where are the Palestinian people? Then, Israel will say that they are the majority and so the Palestinians will not be able to have their say.
We are restricted in our movements - we cannot move from city to city easily.
What we want is our security - give us our land to live on.
How would people feel if they were given, for example, a 100m area, they were given food and drink, but it was impossible to get out of that area? How would you expect me to react to that situation?
Israel will not give one centimetre of land to the Palestinians - they will build more and more and they will want to take it all.
I am not political and I am not on anyone's side, but the situation here is not good.
Whether or not Fatah and Hamas are at peace with each other, Israel will not give us anything.
The media prefers Israel to us - Israel has the power so why should they be concerned with the Palestinians?
When you live here and see the suffering every day and see everything for real, you know that the future is black for us.
Tzvi Schoenberg, Jerusalem
I don't think the deal between Fatah and Hamas will work.
Based on past experience, the violent conflict between them is too deep to be resolved.
The reason this agreement took place is because Hamas hopes to take control of the West Bank at the elections that may take place in six months' time.
The move is not a positive step to peace. Hamas is a movement that has no will to recognise the right of the Israeli state to exist. There is no chance for peace in this matter.
Fatah is much more pragmatic than Hamas, yet different statements made by the leadership lead to doubts about the ability to create a stable peace between Israel and Palestine.
I was almost killed by a grenade as a two-year-old baby living in the old city of Jerusalem and I have experienced the trauma of fighting on our very basic rights.
But I am more than proud and glad to live in our beautiful homeland.
Mark Calder, Bethlehem
I'm a British person living here and for the first time in years Palestinians will feel encouraged, having been effectively unrepresented since the international community's failure to recognise the results of the 2006 election.
This is critical to the future security of both peoples.
But my Christian friends are concerned about the Islamification of the national struggle. However, many are equally fed up with Fatah and feel they are too close to Israel.
It was interesting that people were out on the streets of Bethlehem last night, chanting and waving flags... because of Barcelona's victory against Real Madrid in the football - politics has become something of a turn-off.
For Palestinians, life has been claustrophobic. Leaving and re-entering the West Bank is still a nightmare for most of them, and economic opportunities are few and far between.
For a tourist destination like Bethlehem, the effect of the uprisings in the Middle East has resulted in additional loss of revenues as well.
Meanwhile, the relentless encroachment of settlements leaves many, probably most, believing a two-state solution is now a pipedream.
Hamas may be willing to tolerate the existence of Israel without accepting the injustice of 1948.
Likewise, Israel may tolerate the existence of a Hamas government, but not if Israeli military supremacy is maintained by the US to such an extent that it doesn't need to worry about getting on with its neighbours.
After an election, I think it will depend on the West, especially the US, to back up the democratic rhetoric with a willingness to engage - whomever the Palestinians elect.