Yemen: Two shot dead at protests in Ibb and al-Baida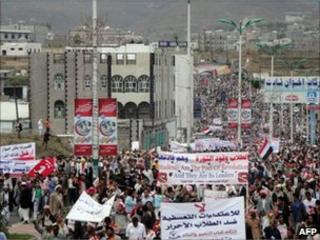 At least two anti-government protesters have been killed in separate clashes with security forces in Yemen, medical sources and witnesses have said.
One person was shot dead and another 30 were wounded after plainclothes officers fired on demonstrators in Ibb.
The second protester was killed in the southern province of al-Baida.
Thousands have been attending rallies calling on President Ali Abdullah Saleh to step down immediately. He has agreed to transfer power soon.
Many opponents do not trust Mr Saleh to keep his promise to resign.
His ruling General People's Congress party agreed on Saturday to a Gulf Co-operation Council (GCC) plan under which the president would hand over power to his deputy within 30 days of a deal being signed, in exchange for immunity from prosecution.
More than 130 people have been killed by security forces and supporters of Mr Saleh since the anti-government unrest began in January.
'No respite'
In addition to Monday's clashes in Ibb and al-Baida, dozens of people were wounded in the flashpoint city of Taiz after troops fired live rounds and tear gas at tens of thousands of people attending a protest.
Witnesses said the demonstrators were chanting "Leave" and "No rest, no respite for the executioner".
Security forces erected concrete barriers to block roads leading to the Taiz governor's office, and deployed armoured vehicles on the streets, witnesses said.
"There were thousands in a march who came from outside Taiz, but the police and army and gunmen in civilian clothes confronted them, opening fire with bullets and tear gas," one witness told Reuters.
"They opened fire heavily from every direction."
An opposition TV channel reported that protesters were continuing to march towards the city centre "despite the security barriers, hail of live bullets, and tear gas canisters".
Medical sources told the Reuters news agency that 50 people had been shot, 25 had been hurt by stones, and 250 were suffering the effects of tear gas inhalation.
In Sanaa, where demonstrators have staged a sit-in at a square since February, thousands of teachers marched on the education ministry, carrying banners reading "no negotiations, no dialogue" and chanting: "No studying, no teaching until the downfall of the president."
Protests were also reported in the south-eastern town of Mukalla and in the Red Sea city of al-Hudaida.
'Army defections'
Sunday saw demonstrations in several cities across Yemen.
In Sanaa, the capital, witnesses reported that protesters occupying a permanent camp were ringed by army units that defected in order to join and protect them.
A coalition of seven opposition parties has generally accepted the Gulf-backed deal, but has voiced reservations.
Under the proposal established opposition parties would first join President Saleh in a unity government.
The president would then submit his resignation, but to to a parliament that would be dominated by his own party. What happens if lawmakers reject his resignation is unclear.
Mr Saleh has already promised not to renew his presidency in 2013 or hand over to his son. However, he has made - and broken - similar pledges in the past.