Syria witness: 'Unprovoked shooting' at protest in Homs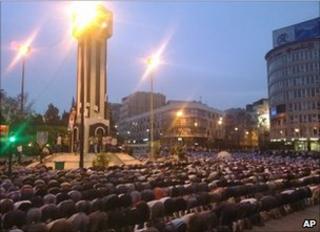 Syrian security forces have opened fire on protesters in the country's third-largest city, Homs, after hundreds of people occupied a central square on Monday, vowing to stay until the president was ousted.
It is not yet clear how many people were killed in the violence, but one Homs resident, Aboud, describes the mood in the city.
"My brother was at the protest [on Monday]. He was at his university and as soon as he heard about the sit-in, he went there to join his friends.
There was a festive atmosphere; there were thousands of people gathered: children, elderly, women. It was like a big picnic and there were plans for people to spend the night there in tents and to pray at dawn.
The sit-in was modelled after the Egyptian sit-ins in Tahrir Square. People coming in were searched by the participants. Not even as much as a knife was allowed in.
At around 11 in the morning, the police on Damascus Road announced that they were there to protect the officers' club.
My brother left the square 15 minutes before the shooting. His mobile phone's battery had gone down and he went home to recharge.
All of a sudden there was shooting. Completely unprovoked.
We don't know how many people died.
The injured were taken to the hospital where they were arrested straight away. Because of that, some hospitals closed their emergency wards, as a message to the people not to go there.
On Sunday, the protesters did very well to surround one of the hospitals and prevent anyone from entering it and arresting people.
'Turning point'
Now there's absolute calm. The only unusual thing is that civilians are checking ID cards. I don't know who they are, but I suspect they are ordinary people protecting their neighbourhoods.
Everything is closed - banks, schools, only a few shops are open.
Everything has been cleaned up, but there are so many videos on Facebook and YouTube. People know what happened.
We heard a rumour that a sheikh was injured. If he dies, there'll be no stopping them. Not just the religious people, but everyone else too, because sheikhs are sacred to us: they are our only trusted leaders.
The attack was like a declaration of war. People are furious. There's murder in their eyes. They want revenge.
My home village is not religious - there's alcohol smuggling and consumption. Yet last night, for the first time in my life, I heard people calling for jihad.
The local municipality was shot at and shots were fired in the air.
Yesterday was a turning point. I think there'll be lots of trouble and bloodletting, particularly in the rural areas where people are well-armed and the police presence is weak.
I am worried about the future and I grieve for the people who died."