Egypt: Mubarak's former ruling party dissolved by court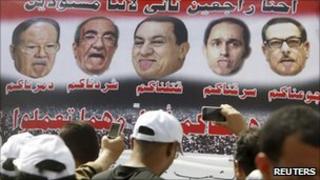 An Egyptian court has ordered that the former ruling party of ousted President Hosni Mubarak should be dissolved.
All assets of the National Democratic Party will be seized and handed to the government, the supreme administrative court ruled.
Mr Mubarak is under detention in hospital awaiting questioning on corruption allegations.
His two sons and a growing number of ministers and officials from his ruling era are also facing investigation.
Mr Mubarak stood down in February after a popular uprising against his 30-year rule.
The dissolution of his party has been a key demand of the protesters who drove him from power. Its offices were among the buildings targeted during the uprising.
The NDP had dominated the country's politics since it was set up by Mr Mubarak's predecessor, Anwar Sadat, in 1978.
Full details of the court ruling were not immediately available.
Family under suspicion
Mr Mubarak is said to be in an "unstable condition" in hospital with heart problems. He has been ordered to be detained for 15 days.
He and his sons have been banned from leaving the country and their assets have been frozen.
In a pre-recorded audio message released on Sunday, Mr Mubarak said he would work to clear the names of himself and his sons.
He had been keeping a low profile in the Red Sea resort of Sharm el-Sheikh, after fleeing to his holiday villa there when he was overthrown.