Bahrain 'defers' Shia party ban pending unrest probe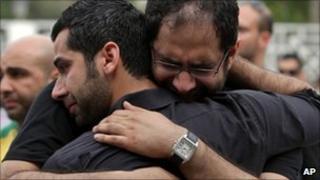 Bahrain has postponed plans to ban the two main political parties that represent the country's Shia majority, following criticism from Washington.
The government had announced legal action to disband the parties, but now says it will delay the moves until an investigation into the recent unrest.
Some 30 people have died since February in protests by mainly Shia citizens against Bahrain's Sunni monarchy.
About 400 people, including doctors and rights activists, have been detained.
The daughter of human rights activist Abdulhadi al-Khawaja has told the BBC that she will continue a hunger strike she began on Tuesday until her father and other relatives are set free.
'Harming social peace'
The US has voiced concern over the treatment of detainees in Bahrain after a fourth man, Shia businessman Karim Fakhrawi, died in custody.
The administration of President Barack Obama also expressed concern about Bahrain's plans to disband the two Shia opposition groups, al-Wefaq and the Islamic Action Society.
"We call on the government of Bahrain to support freedom of association and expression, and to foster an environment that encourages political pluralism and participation," state department spokesman Mark Toner said on Wednesday.
On Thursday, a statement posted on the official Bahrain News Agency (BNA) said the government would defer its legal action "in light of the ongoing investigations and trials on the unfortunate events that the country has witnessed in the last period".
The two groups had been accused of violating the constitution and "harming social peace and national unity".
The unrest in Bahrain started on 14 February, when protesters - emboldened by uprisings in Tunisia and Egypt - took to the streets urging democratic reform. Some have called for the overthrow of the monarchy.
The escalating protests prompted the government to impose martial law and invite troops from Sunni-ruled neighbours such as Saudi Arabia and the United Arab Emirates.
Bahrain accuses Iran of fomenting the unrest - a charge Tehran denies.