Yemen unrest: Opposition rejects Gulf Arab proposal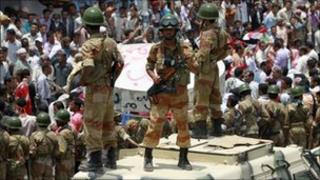 Rallies are being held across Yemen to protest against a Gulf Arab initiative for President Ali Abdullah Saleh to step down in return for protection.
The proposal reportedly says Mr Saleh should transfer many of his powers to his vice president, but offers no time-frame for him to leave office.
Mr Saleh welcomed the Gulf Co-operation Council's (GCC) offer on Sunday.
But his opponents have rejected it, saying they want him to step down after 32 years in office.
More than 100 people have been killed since the start of the protests in late January, which were inspired by the successful uprisings that toppled long-time rulers in Tunisia and Egypt.
In addition to democratic and economic reforms, the protesters want to see legal action against Mr Saleh and his sons, who occupy key security and political posts.
Late on Sunday, Mr Saleh's office issued a statement saying that it welcomed the GCC initiative.
"[Mr Saleh] has no reservations about transferring power peacefully within the framework of the constitution," it said, echoing his previous remarks.
But he did not specify whether this meant leaving office when his term ends in 2013 or handing over power in January 2012, a date he had recently suggested. The opposition wants him to step down now.
Protesters in Sanaa's University Square - now dubbed Change Square - where thousands have been camping out for weeks now, say they are disappointed by the Arab Gulf proposal.
Thousands also filled the streets of Taiz, Aden, Hudaida, Ibb and the south-eastern province of Hadramaut on Monday to protest against the GCC plan, which asks the president to hand over power, but doesn't clearly call for his resignation.
The draft also offers Mr Saleh protection for prosecution for him and his family for crimes the opposition alleges he committed during his 32 year leadership.
His opponents say the proposal protects the interests of the president and "goes against the will of the Yemeni people".
The question is where does Yemen go from here, with protests and violence steadily escalating, says the BBC correspondent in Sanaa, who we are not naming for safety reasons.
Some say the proposal could still provide a framework for negotiation but others worry that it could lift the pressure, making President Saleh even more reluctant to leave, our correspondent says.
Even before the mass protests, Mr Saleh was struggling to quell a separatist rebellion in the south and a Shia Muslim insurgency in the north - violence that has analysts fear could give the Arabian Peninsula branch of al-Qaeda more room to operate.