Iraq forces attack Iranian PMOI rebels at Camp Ashraf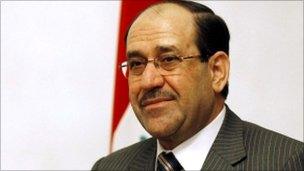 Iraqi forces have attacked a camp housing an Iranian exile group north of Baghdad, home to about 3,500 people.
Reports suggest at least three died in the clashes between troops and the People's Mujahideen Organisation of Iran (PMOI) at Camp Ashraf.
The PMOI said more than 25 were killed and many wounded in the raid, but Iraqi officials have disputed the figures.
US Defence Secretary Robert Gates expressed concern and urged Iraq to show restraint.
The PMOI, a guerrilla group that opposes Iran's Shia cleric leaders, is considered a terrorist group by the US and Iran.
The Iraqi army says that it went into Camp Ashraf, in Diyala province, to confront stone-throwers, and that the clashes were limited.
But the PMOI described the raid, which took place early on Friday, as a full-scale military assault with armoured vehicles.
The PMOI said Iraqi Prime Minister Nouri Maliki, under the order of Iranian Supreme Leader Ayatollah Ali Khamenei, had committed an "unprecedented murder in Ashraf".
Major Hassan al-Tamimi of the Iraqi army in Baquba, capital of the province, told AFP news agency that three people had been killed and 20 injured, among them six soldiers.
But the death toll was not confirmed by the government.
Iraqi government spokesman Ali al-Dabbagh said Ashraf residents had thrown rocks at security forces during a "riot" and denied that Iraqi forces had opened fire.
"The security forces have pushed back residents of Camp Ashraf inside the camp by force," Mr Dabbagh said. "The situation is now controlled."
"I can't deny the occurrence of injuries among residents of Camp Ashraf, because we do not have information from inside the camp," he added.
'International obligations'
The PMOI, also known as Mojahedin-e Khalq, set up Camp Ashraf in Iraq in the 1980s and was welcomed by then-President Saddam Hussein, who was fighting a war against Iran.
The PMOI's military wing fought alongside Iraqi soldiers.
Correspondents say many of the organisation's members continue to live in Camp Ashraf, to the annoyance of both Iraqi and Iranian governments.
Human rights organisations say that the residents of the camp should be protected from persecution or attack.
Mr Gates, who is visiting Iraq, said: "We're very concerned with reports of deaths and injuries resulting from this morning's clashes.
"I urge the Iraqi government to show restraint and to live up to its commitments to treat residents of Ashraf according to Iraqi law and their international obligations."
In January, a Spanish judge opened an investigation into a raid by Iraqi security forces on Camp Ashraf in July 2009 which left 11 people dead. He wanted to see whether crimes against humanity were committed.
A complaint filed by human rights lawyers on behalf of relatives of the victims alleged that police and soldiers shot and beat unarmed residents of the camp so they could clear a space to build a police station there.