Israel approves 942 Jewish homes in Gilo settlement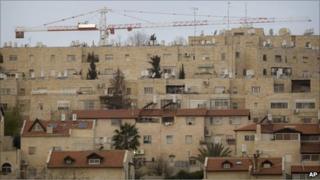 Israel has approved the construction of 942 homes in the Jewish settlement of Gilo on the outskirts of Jerusalem.
The move comes ahead of talks between Israeli President Shimon Peres and US President Barack Obama in Washington.
The US has repeatedly called on Israel to stop building settlements on occupied Palestinian land.
Almost 500,000 Jews live in settlements on occupied territory. The settlements are illegal under international law, though Israel disputes this.
US-brokered peace talks between Israel and the Palestinians are deadlocked over the issue of Jewish settlements in the occupied West Bank and East Jerusalem.
Growing settlement
The Jerusalem municipality approved the 942 new homes in Gilo, near Bethlehem, on Monday afternoon, but it could take years for construction to start.
The municipality said this project was in addition to the 900-plus new homes approved for Gilo in November 2009 - a move criticised by the US and the United Nations at the time.
Palestinian negotiator Saeb Erekat issued a statement "strongly condemning" Monday's decision. He said the Palestinians would appeal to the international community to pressure Israel to respect international law.
Israel built the settlement at Gilo on land it captured in 1967. It later annexed the area to the Jerusalem municipality in a move not recognised by the international community.
Israel says it does not consider areas within the Jerusalem municipality to be settlements.
Gilo lies across a narrow valley from the Palestinian village of Beit Jala. It became a target for militants during the second Palestinian uprising against Israeli occupation in 2000.