Press slam Goldstone about-face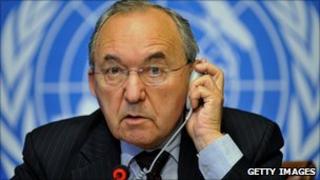 Opinion in Israeli newspapers is sharply divided by an article written by UN investigator Richard Goldstone in which he said he has now reached a different conclusion about Israeli culpability in the deaths of Palestinian civilians during Operation Cast Lead.
Most commentators are pleased with his "retraction" but feel he did not go far enough, although one writer lashes out at the aggressive criticism the media has dealt out to the judge.
Palestinian writers are disappointed and make it clear that they believe Israeli and Jewish pressure caused the about-face, but a Dubai-based daily warns that the matter is not closed.
EDITORIAL IN ISRAEL'S RIGHT-OF-CENTRE JERUSALEM POST
Goldstone's decision to break with the tendency of Jewish self-hatred is worthy of respect and reflects a high level of honesty and integrity, two truly Jewish traits. But it is too little, too late... Goldstone's note of contrition will enjoy none of the fanfare received by his report, which was widely used to give credence to the tendentious claim that the Jewish state was a perpetrator of war crimes.
DANIEL FRIEDMANN IN ISRAEL'S CENTRIST YEDIOT AHARONOT
It is good that Richard Goldstone has retracted... the ugly accusations against Israel and the forgiving attitude to Hamas. However, the explanation he has given... is pathetic. He says that had he known what he knows today the report would have been different than the one written at the time. He also regretted that Israel had not co-operated... However, it is possible to assess that such co-operation would not have changed the distorted report, written by a biased committee.
URI HEITNER IN ISRAEL'S FREE, PRO-NETANYAHU YISRAEL HAYOM
Goldstone deserves praise for expressing regret but he should have done another step and admitted that the report was biased from the start and not post-factum. Had he taken this step, this would have had great importance in exposing the malice in the de-legitimization of the State of Israel campaign.
ALON PINKUS IN ISRAEL'S CENTRIST MA'ARIV
The mere fact of the 'regret' article is recognition of the superficiality of the report, and therefore, there is no need to praise or curse Goldstone.
ALON IDAN IN ISRAEL'S LEFT-OF-CENTRE, INDEPENDENT HA'ARETZ
Goldstone is not pathetic. Goldstone is a humble and professional person. Humility and professionalism are the two main qualities missing in Israel, which is why they provoke such victimized aggression among us. "Only an ass does not alter his opinion," Moshe Dayan once said. In this tale, Goldstone is not the ass.
EDITORIAL IN ISRAEL'S LEFT-OF-CENTRE, INDEPENDENT HA'ARETZ
The main dispute was over the question of why civilians were being harmed: Was it a matter of intentional policy or were these exceptional cases? The Goldstone report seemed to adopt as its working assumption that these incidents were the outcome of policy... Also contributing to this interpretation was Israel's refusal to co-operate with the work of the fact-finding mission... A certain amount of regret on Goldstone's part must not cause Israel to regret the limitations it has imposed on its army.
EDITORIAL IN PRO-FATAH PALESTINIAN AL-QUDS
With his backtracking, Goldstone has lost much of his credibility as well as his reputation and status. He once defended his report while he is now defending his backtracking on it... We should work today toward ensuring that the report is approved by the UN and toward foiling Israeli attempts to undermine it.
ADIL ABD-AL-RAHMAN IN PNA-OWNED AL-HAYAT AL-JADIDAH
In order to protect the Goldstone Report from dissipating or from losing its impact on the Security Council... the International Human Rights Council needs to reply to Goldstone who caved in under pressure.
YUSUF RIZQAH IN PALESTINIAN HAMAS-RUN FILASTIN
The last chapter in the conspiracy started with Judge Goldstone succumbing to the Jewish-Zionist pressure on him and to the feelings of loyalty he has amid local and international conditions unfavourable to Israel. He thus went to publish an article... in which he met some of the demands of the Jewish lobby but without fully withdrawing from the report as Israeli Netanyahu, the leaders of the occupation and their partners in the PR campaign claim.
ATIF ABU-SAYF IN PALESTINIAN PRO-FATAH AL-AYYAM
At a time when Israel is bracing to launch a limited aggression in the Gaza Strip, Goldstone is providing it with an innocent verdict from its previous aggression. Consequently, his timing was not naive at all and came at a time when Israel is talking about completing its previous mission in Gaza.
EDITORIAL IN EGYPT'S PRO-GOVERNMENT AL-JUMHURIYAH
The head of the racist and extremist Israeli government, Binyamin Netanyahu, surprised the international community by asking the UN to cancel the Goldstone report and even throw it into the dustbin of history, at a time when Israel is blocking 1.5 million Palestinians in the Gaza Strip... Netanyahu and other Israeli killers are still playing their role in accordance with their designed plans and want the international community to ratify their crimes and pass them without being punished.
EDITORIAL IN UAE'S PART-GOVERNMENT-OWNED KHALEEJ TIMES
One can only feel sorry for Richard Goldstone. His backtracking, under whatever compulsions, is indicative of the fact that he has succumbed to pressure. Notwithstanding what glaring substance he might have discovered, of late, that made him exonerate Israel of war crimes in Gaza, this is not a done business.
BBC Monitoring selects and translates news from radio, television, press, news agencies and the internet from 150 countries in more than 70 languages. It is based in Caversham, UK, and has several bureaux abroad.