Many thousands turn out for Yemen protests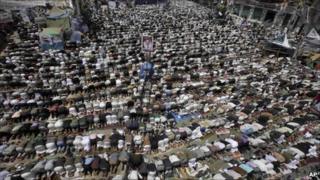 Tens of thousands of people have taken to the streets in Yemen again as the country's political crisis deepens.
In the capital, Sanaa, two rival demonstrations are being held - in support of and against President Ali Abdullah Saleh.
Representatives from the government and the opposition are reported to have met and agreed to avoid confrontation.
Protests in recent weeks have brought President Saleh's 32-year rule to the verge of collapse.
He is under increasing pressure both at home and from abroad to resign immediately.
The UK Foreign Office has urged Britons to leave Yemen as soon as possible, and warned of a "high possibility of violent demonstrations" on Friday.
Transfer of power
A BBC correspondent in Sanaa says tens of thousands of demonstrators marching in two different directions in the capital this morning.
The opposition said it would get one million people on to the streets.
Anti-government protesters gathered in the renamed "Change Square" near the university.
Supporters of the president congregated in the city's Tahrir Square some 2km (1.2 miles) away.
Mr Saleh addressed supporters, thanking them.
"I pledge to sacrifice myself for the people, with my blood and with everything I hold dear," Mr Saleh said.
Reports say that the crowds started to disperse without incident.
Our correspondent says only a political deal between the government and opposition will resolve this crisis, but for now all talks have stalled and neither side is willing to back down.
President Saleh has agreed to resign by January 2012, but the opposition is calling for his immediate departure.
Western diplomats in Sanaa say they are pushing for a transfer of power, our correspondent reports.
For many years an ally of the West, President Saleh was seen as vital in the war against terror and for tackling al-Qaeda in the country. Mr Saleh says that without him al-Qaeda could still take over Yemen.
But, increasingly, many people both at home and abroad are viewing him as the main source of instability, our correspondent adds.