Syria committee 'to study' lifting emergency laws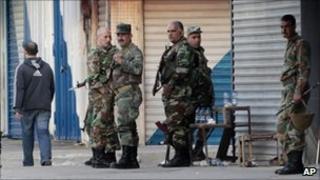 Syria's President Bashar al-Assad has directed a legal committee to look into lifting unpopular emergency laws, in place for nearly half a century.
It will finish work by 25 April, reported the state news agency Sana.
The announcement comes a day after President Assad vowed to defeat a "plot" against his country, but failed to announce the lifting of emergency legislation as some had predicted.
It was his first speech since protests erupted in Syria two weeks ago.
Following Mr Assad's address on Wednesday, protests and gunfire broke out in the flashpoint port city of Latakia, though reports of casualties are unconfirmed.
Threat
Protesters have called on Facebook for more protests following Friday prayers, reported news agency AFP.
But backing for Mr Assad's regime has also been in evidence, with huge crowds joining officially encouraged shows of support for the regime in Damascus on Tuesday.
"Under a directive by President Bashar al-Assad, a committee of legal experts has been formed to study new laws on national security and counter-terrorism, in order to pave the way for ending the state of emergency," Sana reported.
The laws, which permit arrest without charge and restrict gatherings and movement, have been in place since 1963.
Mr Assad admits reforms are needed but insists he will introduce such reforms at his own pace and not because of pressure.
The unrest has become the biggest threat to the rule of President Assad, 45, who succeeded his father Hafez on his death in 2000.
Syria's security forces have responded harshly, with activists and rights groups estimating between 60 and 130 people have died in clashes.
But officials say the death toll is closer to 30.