Syria: Assad speech offers little new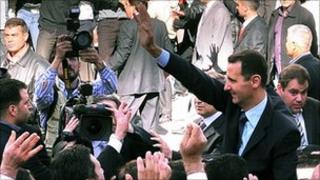 President Bashar al-Assad's first speech to the nation since unrest broke out in Syria two weeks ago has left the situation basically unchanged.
Although much could be read into the nuances of his 45-minute address to parliament in Damascus, he did not come up with anything dramatically new or tangible to break the cycle of disturbances and pacify outraged activists angered by the deaths of scores of protesters.
Buoyed up by huge officially-encouraged demonstrations of popular support the day before, Mr Assad did not look or sound like a leader who thought his days were numbered.
Addressing an adulatory parliament, and with crowds of regime loyalists chanting slogans of praise outside, he clearly believed he was talking from a position of strength.
He felt strong enough to admit that the state had failed to meet the daily needs of many citizens, and had failed to deliver more swiftly on political reforms that he said had been in the pipeline since 2005.
He drew applause from the attentive deputies when he conceded that many of the protesters who took to the streets over those two issues during the past two weeks did so in good faith, and that it would be wrong to call them conspirators.
But he insisted that questions of reform and economic grievances had been overshadowed by a small number of troublemakers and saboteurs who had sought to spread discord ("fitna", a word which recurred throughout his speech) among Syrians, as part of an external conspiracy to undermine the country's stability and national unity.
Admission of errors
He was lavish in his praise for Deraa, the southern city that has become the epicentre of unrest, and which remains defiant.
"The people of Deraa are not responsible for what happened, but they share with us the responsibility for halting fitna," he said.
He also admitted that despite orders to security forces not to harm citizens, things had gone wrong in Latakia and elsewhere.
"With every regret, when things go down to the street and the dialogue happens there, outside the scope of institutions, things of course go to chaos, reaction prevails, there are mistakes of the moment, and blood flows," he said.
But the broad lines of the president's address had already been sketched by senior aides and the official media: blaming an outside conspiracy and the international media for stirring trouble, admitting that some demands were justified, and promising reforms which have yet to materialise.
The first reaction from activists in Deraa, Latakia and elsewhere was anger that Mr Assad fell back on conspiracy theories as the main driving force for the unrest, and failed to announce a definite move towards scrapping emergency laws under which security and intelligence forces have carried out ruthless repression with impunity since 1963.
'Confronting fitna'
He also made it clear that further attempts to foment fitna would not be tolerated.
Fitna carries overtones of sectarian strife, a spectre haunting a country with a Sunni majority largely ruled by Mr Assad's Alawite minority, which also has substantial Christian, Kurdish and Druze communities.
"Confronting fitna is a national, moral and legal duty," he declared. "Anybody who can help foil it and doesn't, is part of it. Those who engage in it are killing their homeland. There is no middle ground.
"It's not a question of the state, but of the homeland. The conspiracy is big. We are not looking for battles. But we won't hesitate for a moment to defend our causes and interests and principles. And if the battle is imposed on us today, it's welcome."
But for activists endowed with patience and an ability to grant the benefit of the doubt (both commodities probably in short supply right now), the president's address at least in theory offered some hope.
He said that new measures dealing with the emergency laws, and new legislation to permit political parties other than the ruling Baath, had already been drawn up a year ago in draft form by the party's regional command.
Activists' dilemma
He said he hoped that other measures - to deal with corruption, create job opportunities and strengthen national unity - would be formulated within a month, and a timetable would then be set for their implementation.
That, he said, would be a priority task for the new government that will be formed, following the resignation on Tuesday of Prime Minister Muhammad Naji al-Otri and his eight-year-old administration.
He insisted that the promised reforms were not being made under pressure, but had been decided in principle in 2005 and delayed for a variety of compelling reasons, including the need to meet people's daily needs.
It was better to get reforms right than to rush into them just for the sake of speed, he said.
In his two references to the emergency laws, he offered no detail at all on what their reconsideration might entail, saying he preferred to refrain from detail until they had been properly elaborated.
Activists want them scrapped and replaced with legislation enshrining civil rights. They fear that if the emergency laws are shelved, they may be replaced by anti-terror legislation that could have just the same results.
Although corruption allegations have been levelled at some of his closest associates and family, Mr Assad insisted that nobody was standing in the way of reform.
"The only people who were against it were the people of interests and corruption, of whom there were a very small number, who are no longer there," he said.
"Now there are no real obstacles. But the important thing is not to subordinate the reform process to conditions of the moment which could be transitory, so as not to stir the opposite results."
None of which would do much to persuade activists that the promised reforms will be solid and will genuinely alter the realities they have been living for decades of iron-fist rule.
They now face the dilemma of whether to escalate their protests, at the risk of triggering a predictably harsh response from a regime that has mobilised its defences in all their forms, or to ease off and wait to see if the promised reforms materialise.