Syria protests: Tear gas in Deraa as army takes Latakia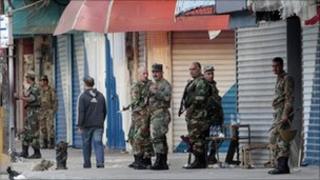 Syrian forces have fired tear gas at hundreds of protesters in the southern city of Deraa, reports say.
At least 61 people have died in 10 days of protests in Deraa, amid a wave of unrest that has shaken the regime of President Bashar al-Assad.
Meanwhile, troops are out in force in the northern city of Latakia, after 12 people died in clashes this weekend.
President Assad has yet to comment on the demonstrations, which have spread to at least six cities across Syria.
Sources say he is likely to announce on Tuesday that he is lifting the state of emergency after nearly 50 years and taking steps to annul other restrictions on civil liberties and political freedoms.
There are great hopes among many Syrians that President Assad's speech will put an end to the recent tension, says the BBC's Lina Sinjab in the capital, Damascus.
Tense cities
On Monday, police reportedly fired tear gas to disperse crowds calling for freedom in Deraa, where security forces launched a severe crackdown last week.
"[Security forces] are pointing their machine guns at any gatherings of people in the area near the mosque," one local trader told Reuters, referring to the Omari Mosque which has been a focal point of the town's demonstrations.
Another eyewitness said security forces had fired tear gas at the crowd and live ammunition in the air to disperse them. Syrian state television denied reports that troops had fired on the demonstrators.
The death toll in Deraa since the start of protests on 18 March was at least 61, according to Human Rights Watch.
Meanwhile, Syrian troops are now in control of Latakia, 350km (220 miles) north-west of the capital Damascus, our correspondent says.
The government says 12 people were killed during clashes on Friday and Saturday, but residents say the number could be higher.
Officials blamed foreign forces for the violence there, but residents said pro-government gangs started the clashes.
The streets of Latakia, home to 450,000 people, were completely deserted on Sunday and all shops remained closed.
An Associated Press photographer said two police cars had been smashed in the main Sheikh Daher square. The offices of SyriaTel, the mobile phone company owned in large part by a cousin of President Assad, had been burned, he said.
There have also been protests in Hama, a northern city where in 1982 the forces of President Hafez al-Assad, Bashar's father, killed thousands of people and razed much of the old quarter to put down an armed uprising by the Islamist Muslim Brotherhood.
Protesters have vowed to keep taking to the streets until all their demands for more freedom are met.
Promises of reform
The unrest has become the biggest threat to the rule of President Assad, 45, who succeeded his father Hafez on his death in 2000.
The government has tried to calm the situation by promising concessions.
Analysts say there are divergent views within the Syrian leadership on handing the crisis - one group favours a crackdown on the dissent while the other prefers dialogue.
Jihad Makdissi, the spokesman for the Syrian embassy in London, told the BBC World Service that an inquiry was under way into the violence and deaths during recent anti-government protests.
He said the president had intervened to put an end to a "chaotic situation" in Latakia, where people were "vandalising government institutions" and burning cars.
Mr Makdissi said that the promised reforms would include more freedom of speech and a more "democratic environment".
In London, the Syrian Observatory for Human Rights released a list of 41 names of people reportedly detained on Friday in and around Damascus, Homs, Deir al-Zor and other cities.
Amnesty International has issued a list of 93 people it says have been detained.
Reuters news agency meanwhile reported Sunday that two of its journalists in Syria - producer Ayat Basma and cameraman Ezzat Baltaji - were missing.