Saleh departure in Yemen: A matter of 'when', not 'if'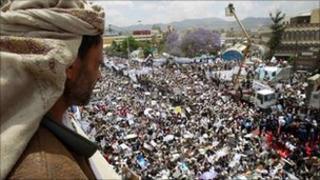 A day after another mass rally in Yemen calling for President Ali Abdullah Saleh to quit, a senior minister and ally says agreement is close in negotiations for him to leave power - an outcome many now see as inevitable. This report is by a BBC correspondent in Yemen who is not named because of security concerns.
The Yemeni opposition dubbed it the Friday of Departure. President Saleh called it the Friday of Forgiveness. But it was a student activist in Sanaa who came up with what proved to be the most accurate description: the Friday of Uncertainty.
The day started early with thousands of Yemenis marching in two different directions.
By noon, the crowd by the Sanaa University stretched to the horizon. It was by far the biggest demonstration against President Saleh.
It was hard to imagine that this massive rally was born out of a tiny sit-in organised by a handful of young students inspired by the Egyptian and Tunisian uprisings.
Five weeks on, their protest has spilled out from the square and into the surrounding streets. Tents stretch for miles as thousands spend their nights in the streets, waiting for Mr Saleh to resign.
On Friday some wept as they remembered those who died only a week earlier when snipers fired from the roofs, killing more than 50 people.
"I came because I want to show Ali Abdullah Saleh that he will not scare me away," said one woman who brought her three-year-old son to the rally. "He can shoot as much as he wants, but we will keep coming."
Concessions, defiance
But Mr Saleh did not have to shoot to remind his opponents that he is a formidable opponent. Instead he stole their show by staging a massive rival rally.
Throughout this crisis Mr Saleh has remained calm, looking relaxed and confident as ground shifted from beneath his feet as some of his closest allies - high ranking military and tribal leaders, including the powerful General Ali Mohsen - turned against him after last week's shooting.
But just as it looked like he was about to fall - Mr Saleh brought thousands out into the street in a powerful show of force.
"The best thing is that nobody asked you to come here," he told the cheering crowds in a nod to widespread rumours that Mr Saleh supporters are paid to attend demonstrations.
The rest of the speech was a clever combination of concessions and defiance. He told supporters that he would go, but only on his own terms. He said he had to leave power in safe hands, and not in the hands of the opposition coalition which included, he said, Al Qaeda, rebels and arm dealers.
He dismissed the opposition but was much kinder to the youth saying that he would listen to their demands, an attempt perhaps to exploit a reportedly growing rift between student and opposition party activists.
Resignation talks
But while some elements within the opposition may be willing to negotiate with Mr Saleh, there is only one thing that students want - his resignation.
"Liar, liar!" young people shouted as Mr Saleh came up on TV in their tent city in the square.
Its not clear whether Mr Saleh's demonstration was his attempt to hang onto power or to strengthen his position in negotiating his exit.
Many in Sanaa think it's the latter.
The view that Mr Saleh's resignation is a matter of "when" rather then "if", was confirmed on Saturday when Foreign Minister Abubakr al-Qirbi said that Mr Saleh was negotiating actual terms of his resignation with the opposition.
It was the first confirmation of the resignation talks by a government official, who is a close ally of the president.
But it's not clear whether the sides will agree on the actual structure of the power takeover.
Another big issue is the future of Mr Saleh's relatives, many of whom hold powerful government posts.
Two particularly unpopular among the opposition are Mr Saleh's son Ahmed, who is in charge of the powerful Republican Guard, and his nephew Yahia Saleh, who heads the security forces. Finding a compromise on their future in the post-Saleh Yemen will be difficult.
And there are threats of instability too - President Saleh has repeatedly warned that his resignation could lead to a civil war, and throw Yemen into the hands of al-Qaeda.
These comments resonate strongly in the West.
The US has given Mr Saleh millions of dollars in counter-terrorism assistance and helped him to train the army.
While some other military units have joined the opposition, the elite US- and British-trained troops, headed by Mr Saleh's son and nephew, remain loyal to the president.
The end of President Saleh's 32 year-long rule may seem imminent, but it's the way he goes that could make all the difference.