Yemen parliament imposes state of emergency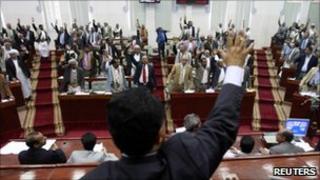 Yemen's parliament has passed sweeping emergency laws following escalating street protests against the 32-year rule of President Ali Abdullah Saleh.
The move gives security forces far-reaching powers to detain suspects and prevent demonstrations.
More than 50 people have been killed in the unrest, which Mr Saleh has said risks bringing Yemen into civil war.
He has offered to step down within months but the opposition insists he must go immediately.
Only about 160 of the 301 members of the Yemeni parliament attended Wednesday's vote - those present overwhelmingly approved the imposition of 30 days of emergency law.
Opposition and independent MPs, as well as some members of Mr Saleh's ruling General People's Congress, boycotted the session.
Abdul Razaq al-Hajri of the Islamist opposition Al-Islah (Reform) party said the resolution was illegal and there was "no such thing as a state of emergency" in Yemen.
"What they had done to pass the state of emergency is fraud and we reject it," he told the AFP news agency.
Growing unrest
Protesters in the Sanaa square which has become the focal point for demonstrations also rejected the government's move.
"It is the revolution that now decides the future of the nation. We pay no attention to the measures," one man told the Associated Press.
Mr Saleh has said that he is "truly sympathetic" with the problems faced by the country's youth, according to a report on state news agency Saba, Reuters reports, calling on them to engage in "a transparent, sincere and open dialogue".
He has said his opponents are attempting to carry out a coup against him, warning "there will be a civil war, a bloody war".
On Sunday, Mr Saleh fired his entire cabinet in apparent response to protests against his rule. He asked them to stay in place in a caretaker capacity.
He has offered to stand down in January - more than a year before his term ends - but the offer has not been accepted by his opponents.
The protests against him have grown increasingly violent, with some 50 people shot dead at a demonstration in Sanaa on Friday.
Mr Saleh's authority has been further undermined by a string of military resignations, including General Ali Mohsen al-Ahmar, long close to President Saleh, who said on Monday he was backing the protesters.
Yemen is one of a number of countries in the region that have seen unrest since the presidents of Egypt and Tunisia were ousted in popular revolts.
The president has been in power for 32 years, facing a separatist movement in the south, a branch of al-Qaeda, and a periodic conflict with Shia tribes in the north.