Syria unrest: Activist arrested on fifth day of protest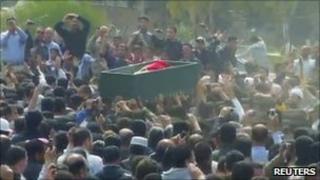 Protesters have gathered in the southern Syrian town of Deraa for the fifth straight day, after recent clashes that left six people dead.
Unofficial reports said the governor, Faisal Kalthoum, had been sacked.
His dismissal was one of the key demands of demonstrators in Deraa, who have been calling for more political freedom and an end to corruption.
Meanwhile, the authorities arrested a leading campaigner, Louai Hussein, who had supported the protesters.
Mr Hussein, a political prisoner from 1984 to 1991, was taken from his home in the Sehnaya district near Damascus, the Syrian Observatory for Human Rights said in a statement.
"His house was broken into. The door was smashed. His fate is unknown," it said.
On Tuesday, hundreds of protesters gathered in Deraa amid tight security to shout slogans against the regime of President Bashar al-Assad.
An AFP photographer and videographer said they were beaten by security forces, who seized their equipment.
Since Friday, the town - home to large tribal families - has been the site of unprecedented protests against Mr Assad's regime.
Six people have been killed in the security crackdown on the demonstrations, including an 11-year-old boy who died after inhaling tear gas on Monday.
The United Nations' human rights chief, Navi Pillay, has urged the Syrian government to carry out a transparent investigation into the recent violence.
The UN said Syria's security forces should stop using excessive force.
The European Union has also strongly condemned the "unacceptable" crackdown against peaceful protests in Syria.
Although the demonstrators have not demanded the resignation of President Assad, the unrest is the most serious challenge to his rule since he succeeded his father, Hafez, 11 years ago.
The government has sent senior officials to Deraa to try to calm the tensions. It has also released the 15 children whose detention for writing pro-democracy graffiti triggered the first protest on Friday.
The protesters have also demanded the release of political prisoners, the closure of the secret police headquarters in Deraa, and a public trial for those responsible for the killings.
Syria has been ruled under emergency laws for nearly 50 years, and the Baath Party is known for brutally suppressing dissent.