Gaza: Children die in Israeli attack, say doctors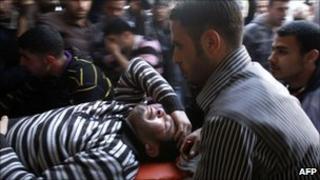 Two Israeli military strikes on Gaza have killed eight Palestinians, medical officials say.
Two were under 18, while four were members of the armed wing of Islamic Jihad, according to the ruling Hamas militant group.
Israel apologised for the civilian casualties but said it would defend itself against rocket fire from Gaza, which has increased in recent days.
Militants fired a barrage of mortars into Israel on Saturday.
Serious exchanges
Four people were killed, including two children, when an Israeli tank shell hit a home on the outskirts of Gaza City.
The four - including a grandfather and two of his grandsons - were outside playing football at the time. Another 12 people inside were wounded.
The targets were Palestinian militants who had fired several mortar shells over the frontier, said the Israeli military.
In a separate attack, an Israeli air strike killed four militants in the Zeitun area of Gaza.
The four were members of the Al Quds Brigade, the armed wing of Islamic Jihad, a spokesman for the group told the AFP news agency.
The BBC's Jon Donnison, in Gaza City, says the exchanges are among the most serious since Israel's major offensive in the coastal strip between December 2008 and January 2009.
More than 1,300 Gazans lost their lives during the 22-day offensive. Thirteen Israelis, including three civilians, were killed.
Our correspondent adds that, unusually, the militant wing of Hamas claimed responsibility for at least a dozen of the mortars fired at Israel over the weekend.
Israeli Defence Minister Ehud Barak said: "We were not glad of it but that's the price of dealing every day with the terrorists attacking our civilian population from within civilian population on the other side."
The latest deaths came a day after Palestinian doctors said at least 17 people were injured in Israeli air strikes in Gaza.