Bahrain unrest: King Hamad says foreign plot foiled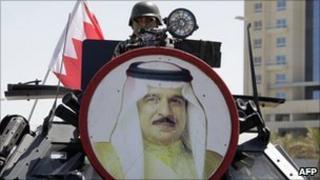 The king of Bahrain says a foreign-backed plot against his country has been foiled following a month of anti-government protests.
King Hamad bin Isa al-Khalifa thanked troops from nearby countries, mostly Saudi Arabian, who were brought in last week to put down the unrest.
He did not give any details of who was behind the alleged plot.
But in recent days Bahrain's Sunni leadership has accused Iran of interfering in its affairs.
Amid rising tensions, the two countries have engaged in tit-for-tat diplomatic expulsions - both recalling their ambassadors last week, and each expelling another diplomat on Sunday.
Iran, which has a Shia majority, has condemned Bahrain for the deaths of Shia protesters in the pro-democracy demonstrations.
"An external plot has been fomented for 20 to 30 years for the ground to be ripe for subversive designs. I here announce the failure of the fomented subversive plot," King Hamad said, according to a report by the state Bahrain News Agency (BNA).
He was speaking to officers of a Saudi-led Gulf Co-operation Council force that entered Bahrain last week ahead of a brutal crackdown on pro-democracy protests, which was criticised by Washington, an ally of Bahrain, and by the United Nations.
King Hamad thanked GCC members who had supplied troops, saying their presence "gives us strength and bolsters our status. Bahrain is bigger and stronger today than ever".
The king did not specify who was responsible for the plot but correspondents say his accusation was a swipe at Iran - which Bahrain fears is gaining regional sway from the unrest.
Bahrain has complained to satellite operator Arabsat over "abuse and incitement" on Iran's Arabic-language al-Alam TV and other Shia-controlled channels carried by the broadcaster, a report said.
Missing
An uneasy calm had returned to the Bahraini capital Manama on Monday, though some 2,000 people joined a funeral procession in the Shia town of Buri - the fourth in as many days, reported Reuters news agency.
Mourners gathered to bury a 38-year-old father of three, Abdulrusul Hajair, who went missing in recent days and whose beaten body was found on Sunday, Reuters said.
Bahrain's Shia opposition Wefaq group said police had told Mr Hajair's family to collect the body from hospital.
A Wefaq politician said nearly 100 people had gone missing in the crackdown, Reuters said.