Small Saudi protest outside interior ministry in Riyadh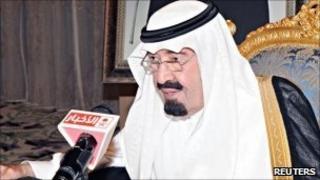 Dozens of people have protested outside Saudi Arabia's interior ministry in the capital, Riyadh.
They are demanding the release of people detained by the government.
Reports quoting witnesses said riot police stopped the crowd forcing their way into the building, and arrested around a dozen people.
King Abdullah has responded to petitions and small protests by offering improved wages and benefits, but not political reforms.
Reports say some demonstrators argued with police but they were not shouting slogans or holding protest signs.
At least 50 police cars surrounded the ministry, the Reuters news agency. One report says the protesters were outnumbered by the riot police deployed around the ministry building.
All public protests are banned in Saudi Arabia, but the Associated Press reports that this is the third protest in a month by relatives of people detained without trial fro long periods on security charges.
On Friday, Saudi Arabia's King Abdullah warned that threats to the nation's security and stability will not be tolerated.
He also announced a series of royal decrees promising a higher minimum wage, pay increases, an anti-corruption drive and an expansion of the security forces.
He had previously unveiled a package of $37bn (£22.7bn) in benefits for Saudi citizens when he returned home last month, after months spent convalescing from surgery in the US.
Saudi Arabia has largely escaped the mass protests shaking the Middle East. But in the country's oil-rich Eastern Province, bordering Bahrain where Saudi Arabia has sent 1,000 troops to help quell unrest, there have been protests from the minority Shia Muslim population.