Bahrain unrest: Outspoken blogger forced into hiding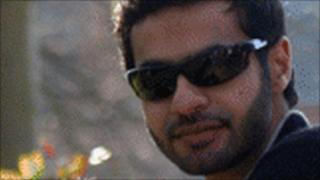 As the man known as the "Bahraini blogger" goes into hiding, the BBC's Bill Law profiles a family that was once fiercely outspoken, but now seems too afraid to talk.
"Help us, help us, help us," a text I received on Friday read.
It was from Jenan al-Oraibi, the wife of Ali Abdulemam, also known as the Bahraini Blogger.
Ali had been a constant critic of the government and the ruling al-Khalifah family for several years.
He was jailed briefly in 2005, then arrested again in a sweep of suspected Shia dissidents in August last year.
Along with the 22 others, he was charged with financing and directing a terror organisation.
The first time I met Jenan was in December last year. By then her husband had been in prison for several months.
Visiting rights were being cut short, and she was worried that he was being subjected to beatings.
A climate of fear was prevalent in the tiny Gulf kingdom.
We were being constantly shadowed by plainclothes security officers. They followed us in cars and on foot everywhere we went.
Even so, Jenan was anxious that we interview her.
"Ali has a free pen. That is exactly his crime. He has a free pen," she told me in December.
When Ali and the others were arrested, they were held for several weeks without access to their lawyers and families.
During that time, the 23 confessed. It is widely believed that the confessions were extracted under torture - an allegation the government continues to deny.
However independent observers and groups such as Human Rights Watch and Amnesty International say the claims of torture are true.
Two weeks ago, in the midst of their trial, King Hamad bin Isa al-Khalifah granted a royal pardon to all of the men.
When I spoke to Jenan and Ali by phone, I could hear their three young children shouting and laughing in the background.
The family was ecstatic and they thanked the BBC for telling their story.
Then at 0230 on Friday morning, seven of the 23 pardoned men were re-arrested by members of the feared national security apparatus.
The security police came to Ali's home in a Shia village not far from Pearl Roundabout.
Hearing of the arrests, he had left a few minutes earlier and has gone into hiding.
As the crackdown continues against pro-democracy activists, Jenan is now too fearful to speak to me on the phone. She is is worried that it is being monitored by the security services. But nonetheless she wants her husband's story to be told.
When I asked her on Friday via text if we could talk, she texted back: "I am afraid not."
Bahrain is a small country and it is unlikely that Ali will remain hidden for long.