Syria unrest: Tear gas fired at Deraa funeral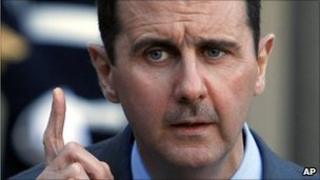 Syrian security forces have fired tear gas to disperse crowds at the funeral of two people killed in anti-government protests on Friday, witnesses say.
Thousands had gathered for the funeral in the southern city of Deraa, and began chanting anti-government slogans.
Rights activists said at least one mourner was arrested by secret police.
Syrian President Bashar al-Assad, whose Baath party has dominated politics in the country for almost 50 years, tolerates no dissent.
Activists said the mourners had been chanting "God, Syria, freedom" before security forces intervened.
Eyewitnesses told the BBC that the mood at the funeral was angrier than during Friday's protest.
The witnesses said the funeral had taken place outside the city, and that the city itself had been sealed off by security forces making it difficult for mourners to get back in.
A rights activist told AFP news agency that several people had been injured as the protesters struggled to run away from the security forces.
Meanwhile, rights groups say a fourth person has died from his wounds after the protests in Deraa on Friday.
They were killed by security forces as protesters demanded political freedom and an end to corruption, eyewitnesses and activists told foreign media.
Al-Watan newspaper, which is close to the government, says the authorities have pledged to investigate the deaths.
The US and UN both condemned the violence and urged the government not to use repression.