Vote choice splits Egyptians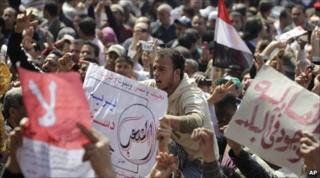 Just five weeks after the fall of President Hosni Mubarak, Egyptians are being asked to vote in a referendum on amendments to the constitution - and it is hard to predict the outcome.
The old constitution, drafted in 1971, was suspended by the new military council two days after Mr Mubarak's resignation. Rewriting it was one of the principal demands of the protesters on Tahrir Square.
Nine amendments have been proposed, limiting presidential terms of office, improving the transparency of elections, and limiting the imposition of emergency rule.
As such they have been broadly welcomed. But opinion over the military's rapid timetable for restoring civilian, democratic rule, is sharply divided.
The Mousa Atteya coffee shop is the clinking hub of an old market in central Cairo. Men of all ages stop by for a cup of mint tea, coffee, or a puff on a water pipe.
Splits appear
This neighbourhood was not much involved in the recent uprising. But now that it has happened, there is plenty of spirited debate about the first vote of the post-Mubarak era.
"Yes, a thousand times, 'Yes'," choruses a group of retired men, who say they want life to get back to pre-Mubarak normality as soon as possible. A younger man agrees with them. This is just a transitional phase, he says, and we can always make more changes later.
But two of the men say they will vote "No". The constitution still gives too much power to the president, argues one. The other man objects to the speed with which things are happening now.
"We are just patching up the old system," he says. "Why are they in such a hurry?
Such is the rush - the amendments were only drawn up, by a hastily-assembled committee of judicial experts, on 26 February - that campaigning only started this week.
State television has been running repeated broadcasts calling on people to vote "Yes". And dozens of homemade videos have appeared on the same social networking sites that played such a prominent role in unseating Mr Mubarak, arguing for a "No" vote.
The proposals have split the anti-Mubarak movement that held together so well during the protests on Tahrir Square. Most of the younger leaders of that movement are campaigning against the constitutional amendments.
"People should vote 'No', because this is what we had the revolution for," says Shadi Al Ghazali Harb, an activist in the Revolutionary Youth Coalition. "We don't want this old constitution, and we need to change it, not just amend it."
He has a more serious concern, about the military council's plans to hold parliamentary elections after the referendum, perhaps as soon as June.
Exciting
"We need at least a year to organise ourselves and enter into into a fair competition for parliamentary elections," he says, "and not leave it just for the Muslim Brotherhood and the NDP to win it because they are the most organised."
The Muslim Brotherhood, although outlawed, is Egypt's oldest and largest opposition party, and stands to benefit most from early elections. No surprise then that it is urging its followers to vote "Yes".
"This is the first step in the long road to a democratic system," say its spokesman Essam el-Erian. "The military imposed the timetable, not us. But it is not too fast.
These amendments are only to guarantee free and fair elections. A new constitution will add more than these amendments."
But once a new parliament is elected, it will then appoint a committee to draft a new constitution. That puts a lot of power in the hands of whichever party does well in the election to shape Egypt's future.
A parliament dominated by the Muslim Brotherhood and perhaps a reincarnation of Mr Mubarak's NDP would be a bitter disappointment to those who struggled so hard for an entirely new beginning for their country.
The novelty of political freedom still feels exciting here. I went to the stately campus of Cairo University, alma mater of Yasser Arafat, Saddam Hussein and Mohamed ElBaradei, for the first free political debate anyone could recall taking place there.
Hundreds of students, men and women, packed a lecture hall to listen to a panel of speakers arguing for and against the constitutional amendments. The points were made, loudly and passionately, and they were robustly challenged by questions from the floor.
You could feel the weight of Mubarak's stifling censorship lifted off the shoulders of these young students, Egypt's future.
One of the organisers of the debate was Hatem Aly, a newly-graduated medical student, who, after taking part in the Tahrir Square movement travelled to Libya to help wounded fighters from the opposition there. While Hatem is voting "Yes", his friend Khaled will vote "No".
"Khaled is my friend, but I like this variety of opinion," said Hatem. "For 60 years we have been just having elections with just 99.9%, everyone was voting for Mubarak, everyone was voting for Sadat, everyone was voting for Nasser - this is healthy."
The Supreme Military Council has stated that if the amendments are rejected, it will impose its own, temporary constitution, until a new one can be drafted.
So whether the vote is "Yes", or "No", the military seems determined to leave the political stage as quickly as possible, and return to its preferred role, as a power behind the scenes.