Yemen unrest: Dozens injured in clashes in al-Hudaida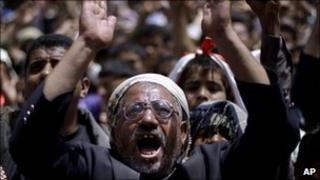 Dozens of people have been injured in Yemen as police tried to break up an anti-government demonstration in the western city of al-Hudaida.
Police opened fire and used tear gas after pro-government loyalists attacked protesters with batons and rocks, witnesses said.
Demonstrators are calling for President Ali Abdullah Saleh to step down after 32 years in power.
The protests, which began last month, have left at least 30 people dead.
A local doctor told Reuters that hundreds of armed security forces and plainclothes police attacked the demonstrators, who were camped out in a main square.
"They attacked the protesters and wounded around 120 people," said the doctor, who is treating the protesters. "They were using tear gas, rubber bullets, live fire and bats."
Many of those injured were suffering from tear gas inhalation, witnesses said.
Blood donations request
Witnesses said about 10,000 supporters of President Saleh marched on some 4,000 anti-government protesters, Associated Press reported, but these figures have not been independently verified.
Police intervened to split the two sides but reportedly fired tear gas mostly at the protesters.
State media reported that a number of security forces and members of the ruling party were injured in the clashes.
One anti-government demonstrator, Mohammed Muajem, told Reuters that security forces were surrounding the protest area.
"Special forces, central security forces and police, most of them in civilian clothing, are surrounding the protesters," he said. "The main hospital is now at full capacity."
Anti-government activists said they were calling on private hospitals to send ambulances and wanted Yemenis to donate blood to help the wounded.
Meanwhile, eight female students were injured after police fired tear gas at a student protest in the southern city of Taiz.
Headquarters torched
On Tuesday, a tribal leader was killed during demonstrations in the north of the country.
Sheik Naji Nassem, who backed the opposition Islah party, was shot dead in the al-Jawf province.
In a separate attack on Tuesday, supporters of President Saleh set fire to the headquarters of the Islah party in al-Hudaida, AP reports. The party said five of its members were injured.
Yemen is one of a number of countries in the North African and Middle East region that have seen increasing unrest since the presidents of Egypt and Tunisia were ousted in popular revolts earlier this year.
Six people were killed in clashes with riot police in the capital, Sanaa, on Saturday. At least two soldiers have also been killed in attacks since the weekend, reports say.
President Saleh has said he will not run for re-election in 2013, but protesters have rejected the offer and are demanding he quit immediately.
Mr Saleh is a key ally in the US campaign against al-Qaeda.