Egypt dissolves notorious internal security agency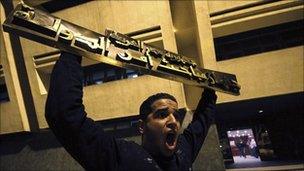 Egypt's Interior Minister Mansour al-Issawi has dissolved its internal security agency, which had been blamed for decades of human rights abuses.
The State Security Investigation Service (SSIS) will be replaced with a new "National Security Force".
The new agency would be tasked with "protecting the domestic front and combating terrorism", Mr Issawi said.
The actions of the SSIS helped ignite the popular uprising that overthrew President Hosni Mubarak last month.
Its agents were accused of using violence to try to stop the protests in Cairo's Tahrir Square. At least 365 people died in the 18 days of unrest.
Earlier this month, protesters raided the agency's main headquarters and offices in several cities, including Cairo and Alexandria, after reports that documents were being destroyed. They found piles of shredded paper.
The head of the SSIS has been arrested and is facing investigation for ordering the killing of anti-government demonstrators. Another 47 of its personnel have been detained on suspicion of destroying evidence.
On Tuesday, Mr Issawi announced that all administrative branches and offices of the State Security Investigation Service in all provinces had been dissolved.
The new National Security Force would "serve the nation without interfering in the lives of citizens or their right to exercise their political rights", the official Mena news agency quoted Mr Issawi as saying.
The force would be tasked with "protecting the domestic front and combating terrorism" in line with the constitution and the principles of human rights, it added.
It said officers for the new agency were to be selected in the next few days.
The SSIS, which had at least 100,000 employees, was notorious for using any means to maintain Mr Mubarak's grip on power over three decades.
Human rights groups have documented hundreds of cases of torture and abuse by SSIS agents, as well as arbitrary arrests and detentions. Their torture methods included suspending victims by the wrists and ankles; beatings with metal rods; using electric shocks; and sexual assault, including sodomy.
Egypt's new Prime Minister, Issam Sharaf, vowed to reform the SSIS when he addressed thousands of people in Tahrir Square.
"I pray that Egypt will be a free country and that its security apparatus will serve the citizens," he told the crowd.
The Muslim Brotherhood, the opposition Islamist movement banned under Mr Mubarak and many of whose members suffered at the hands of the SSIS, said the agency's dissolution was a "step in the right direction".