Israel seizes Egypt-bound ship 'with weapons for Gaza'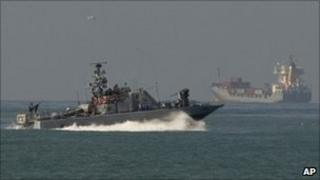 Israeli commandos have intercepted an Egypt-bound ship Israel says was carrying arms for militant groups in the Gaza Strip.
The German-owned vessel - the Victoria - was on its way from Turkey to the Egyptian port of Alexandria, it said.
It was seized some 200 miles (320km) from the shore in international waters.
Israeli forces did not meet resistance from the crew and the vessel was being taken to the Israeli port of Ashdod, security sources told the BBC.
"On the boat we discovered many weapons destined for terror groups in the heart of Gaza," said Israeli Prime Minister Benjamin Netanyahu.
"The source of the weapons was Iran which is trying to arm the Strip."
Turkey 'not involved'
The Liberian-flagged vessel was chartered by a French company, the military said. It departed from Lattakia port in Syria to Mersin port in Turkey, from where it set off bound for Alexandria, it said.
It stressed that Turkey was not involved in the alleged weapons shipment. Relations between the two countries have been strained since Israeli commandos raided a Gaza-bound aid flotilla last May, killing nine Turkish activists on board.
The military gave no details on what type or quantity of arms were on board, saying only that an initial search of three containers had revealed arms and there were many more containers on board.
It said a detailed inspection of the cargo would be carried out at port.
Israel maintains a land and sea blockade of the Gaza Strip, which is run by the Islamist Hamas group.
In the past, Israel has accused Hamas militants of shipping arms through Egypt.
In 2009, the Israeli navy intercepted the Francop, a ship Israel said was carrying hundreds of tonnes of arms from Iran to the Lebanese Shia Muslim movement, Hezbollah.
In 2002, Israeli forces stormed the Karine A freighter in the Red Sea, and confiscated what the military said was 50 tonnes of weaponry headed for Palestinian militants in the Gaza Strip.