Egyptian village rebuilds after religious violence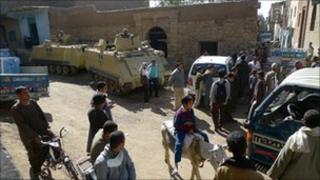 Egypt's army has begun rebuilding a church that was burnt down by Muslims sparking a wave of sectarian unrest. Thirteen people were killed in clashes that followed mass protests by Christians in Cairo earlier this month. The BBC's Jonathan Head went to visit the community where the violence began.
The village of Sol sits in the industrial province of Helwan, about two hours south of Cairo.
It is a modest, rural community of farmers and labourers; the surrounding country is green and fertile from the waters of the Nile, but also dotted with the chimneys of brick ovens, steel furnaces and cement factories.
One street is blocked off by the army. Two armoured vehicles stand sentinel outside. Two hundred metres behind the road-block, soldiers clear rubble from the charred shell of a building, and others carry in scaffolding.
This is the Shahadin Church, which was burned down by a crowd of Muslim men on 5 March, following a family feud, over a relationship between a Christian man and a Muslim woman.
Two men were killed in the feud, the woman's father, by his cousin, and then the cousin by her brother. So the victims and perpetrators were all in the same family.
The issue, villagers say, was the father's failure to preserve family honour by killing his daughter. Such disputes are not unusual, and usually settled within the community.
So why did the violence escalate this time? No-one in the village seems sure, but they are all very keen to assure outsiders that there is no deep-rooted problem.
Show of unity
Down one narrow street of mud-brick houses, Taha, a Muslim pointed out which was Muslim and which was Christian.
He took me into the home of a Christian neighbour where pictures of Jesus Christ adorned the walls.
Nine men from both faiths held hands together and insisted they were like one family.
The Christians pulled up their sleeves to reveal crosses tattooed on their forearms.
The trouble was caused by outside provocateurs, they said. Like everyone else in the village they accused the media of exaggerating what had happened.
More than anything else, they seemed embarrassed by the negative attention their village was suddenly getting.
Symbol of strains
Yet back in Cairo, one young Christian doctor, Bassim Shenouga, thinks it has brought the the issue of religious discrimination sharply into focus.
He was among more than a thousand Christian protesters who held a nine-day vigil outside the offices of state television.
"We want the church to be rebuilt in the same place", he said, "and we want the laws to change, to be the same for building a church as building a mosque."
Others in the crowd called for those who had burnt down the place of worship in Sol to be brought to justice. They accused the head of the Supreme Military Council now ruling Egypt, Field Marshal Mohamad Hussein Tantawi, of ignoring their plight.
"Tantawi, you have Christian blood on your hands," was one chant.
These demonstrators were angry, fired up up by a sense of victimhood and seemingly uninterested in compromise.
Forcing change
Yet just one kilometre away, in Tahrir Square last Friday, there was a very different atmosphere.
Imams delivered sermons preaching tolerance to their followers. Families wandered among street-stalls selling snacks. People held up posters with crosses and Islamic crescents entwined. They talked nostalgically of the fraternal spirit of the revolution.
The army, which has found itself running the country after Mr Mubarak's sudden departure, wants the religious trouble resolved quickly.
It sealed off the areas of Cairo where recent deadly fighting occurred, and offered to rebuild Shahadin Church immediately. It kept journalists away until its soldiers had cleaned up the site and were already starting construction.
The women in Sol seemed less agitated than the men by the recent events there.
"They should have punished the girl and boy and not burned down the house of god," said Marian Narouz. "We should not retaliate and burn down mosques either, although I am very sad about what they did."
But she was adamant. "A Christian should never marry a Muslim," she said. "That would only create problems."