Yemen unrest: Marib governor stabbed amid protests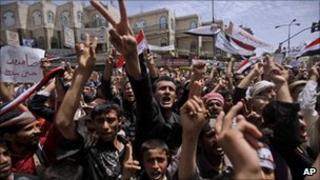 The governor of Yemen's Marib province has been attacked and wounded during an anti-government protest outside the local government headquarters.
Ahmed Naji al-Zaidi was stabbed in the neck by armed men who attacked his convoy, BBC Arabic reports. He is being treated in the capital Sanaa.
Weeks of protest against President Ali Abdullah Saleh's 32-year rule have left about 30 people dead.
Six people were killed in clashes with riot police in Sanaa on Saturday.
During the weekend clashes, reports said hundreds of police moved in, using tear gas, water cannons and live bullets in Tahrir Square - where protesters have been camping out for weeks.
The unrest is affecting several parts of the country away from the capital.
In the port city of Aden, protesters set fire to a police station on Monday. Clashes were also reported in the southern provinces of Hadramawt, Taiz and Hudaydah, and in Jawf in the north-east, the AP news agency reports.
Last week, the US urged opposition groups to take up President Saleh's call for talks.
But the protesters - fed up with corruption, poverty and a lack of political freedom - have rejected Mr Saleh's offers to form a national unity government and demanded that he step down.
On Thursday, the Yemeni leader announced plans to change the constitution to move to a parliamentary system. In a live televised address, he said a referendum would be held this year on measures including a new election law. He has also promised not to seek re-election after his current term ends in 2013.
The beleaguered president on Sunday sacked the government minister in charge of leading talks with opposition forces, Hamoud al-Hattar, and replaced him with another cabinet minister.
Yemen is one of a number of countries in the North African and Middle East region that have seen increasing unrest since the presidents of Egypt and Tunisia were ousted in popular revolts earlier this year.
The president also faces a separatist movement in the south, a branch of al-Qaeda, and a periodic conflict with Shia tribes in the north.