Mahmoud Abbas condemns West Bank settler family murders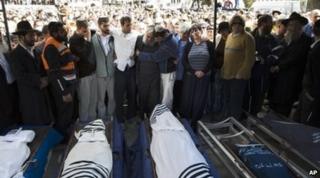 Palestinian Authority President Mahmoud Abbas has strongly condemned the murder of a family of five Jewish settlers in the West Bank.
Mr Abbas said the killings, which happened on Friday, were "immoral and inhuman".
Israel suspects the murders were carried out by Palestinian militants.
Tensions are running high on the West Bank with some settlers having already carried out revenge attacks on Palestinian cars and houses.
The killing of five members of the Fogel family, including three children, has shocked both Israelis and many Palestinians.
Officials said the assailants cut through a fence around the settlement of Itamar and entered the Fogels' home, stabbing to death parents Udi and Ruthie, Yoav, 11, four-year-old Elad and baby Hadas, aged three months.
The bodies were found by a 12-year-old daughter when she returned home from a youth group meeting. Two other children sleeping in another room in the house were not hurt.
Revenge attacks
Thousands of Israelis attended the funerals in Jerusalem on Sunday.
The Israeli Army has strengthened its presence on the West Bank and has arrested tens of Palestinians in an attempt to find the killer or killers.
On Sunday some settlers set fire to Palestinian cars and attacked Palestinian homes in revenge. There are fears there could be more violence.
In an interview with Israeli Army Radio, Mr Abbas said no human being should be capable of such an act. He described the murders as "despicable, inhuman and immoral".
Israel has accused the Palestinian Authority of inciting hatred against Jewish settlers, something Mr Abbas denies.
There are almost five hundred thousand settlers living on occupied Palestinian land in the West Bank and East Jerusalem. Settlements are regarded as illegal under international law although Israel disputes this.