Bahrain protesters 'facing death threats'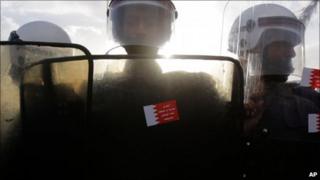 As demonstrations continue in Bahrain, three prominent civil rights activists say they have been targeted with death threats.
The threats came on the eve of an anti-government march on the Royal Court.
Protesters say the march was halted by what they called stone-throwing thugs, while security forces and police looked on.
The threats were allegedly made against Mohammed al-Maskati and Naji Fateel of the Bahrain Youth Society for Human Rights, and Abdulhadi al-Khawaja, of Human Rights Defenders.
Anonymous groups published full personal identification details including their names, phone numbers, home and work addresses, car registration and ID numbers along with their photos on Facebook and other social networking sites.
"These are the instigators of disorder who have organised the movements of sabotage. The heads of agitation and disorder in our beloved Bahrain need to be killed and liquidated," one of the threats read.
Anonymous phone calls
Protesters calling for democracy and demanding that the Sunni ruling family, the al-Khalifas, step down are being accused of fomenting sectarianism.
One activist, a Sunni, told me: "The al-Khalifas are not protecting the country, only themselves. They are criminals. They should go."
Mr al-Maskati said that he has been receiving threatening messages from anonymous phone callers since his name and phone number were published on 10 March.
I asked Abdulhadi al-Khawaja if the government had responded to the threats in any way, or offered protection to the three men.
"It is the government who is behind this," he said, laughing wryly.
A spokesperson for the government denied the allegation.
"The government condemns and deplores all violent threats made towards any individual and will be investigating the matter accordingly," the spokesperson said.
'Playing for time'
However, the UN's Office of the High Commissioner for Human Rights (OHCHR) said it is worried by these reports.
"[OHCHR] is extremely concerned about these threats, which clearly constitute incitement, and calls upon the authorities to ensure effective protection for the three named individuals," said Robert Colville.
Others - including a journalist who did not want to be named - said they have received similar threats via text message. The journalist was accused of being a traitor and told he would be hit with a shotgun blast.
These threats are happening against a backdrop of what is widely seen as government-promoted allegations in the official media that the protesters, mainly Shia, are operating at the behest of "foreign powers" - understood to be shorthand for Iran.
"This government wants to divide society," one activist said. "They don't want dialogue. They are playing for time and hoping the world ignores what is going on here."
Sunni pro-democracy protesters say that they too have been threatened.
And at least one, Mohamed Albuflasa, has been jailed.