New Egyptian cabinet takes oath of office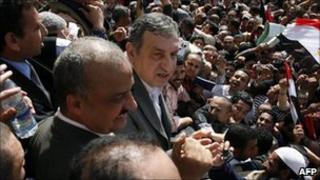 Ministers of Egypt's new government have been sworn into office at a ceremony in the capital, Cairo.
The cabinet includes new faces in key ministries, including Nabil Elarabi as foreign minister and Maj Gen Mansour el-Essawy as interior minister.
Essam Sharaf was named as the new prime minister last week, after demonstrators said his predecessor was unacceptable.
Protesters said Ahmed Shafiq - appointed before Hosni Mubarak stepped down - was too close to the old regime.
Mr Sharaf and the new ministers took the constitutional oath before Field Marshal Mohamed Hussein Tantawi, the head of the military body which now rules the country.
Earlier it was announced that a referendum on proposed constitutional reform in the country would be held on 19 March.
Parliamentary and presidential are due to take place within six months.
March referendum
Mr Arabi, the new foreign minister, is a former ambassador to the UN and was a judge in the International Court of Justice from 2001 to 2006.
The 75-year-old has replaced Ahmed Abul Gheit, who had been in the job since 2004.
Meanwhile, Maj Gen el-Essawy, a former Cairo security chief, has been given the post of interior minister.
According to the state news agency, he has promised he will will work to reduce the role of the State Security agency, an institution which protesters want to see demolished.
The new cabinet also includes a new justice minister, Mohammed al-Jundi, who replaces one who was considered a close Mubarak ally.
Abdullah Ghorab has, meanwhile, been sworn in as oil minister.
Analysts say the new cabinet is likely to be accepted by the protesters because it contains no Mubarak loyalists.
On Friday, Mr Sharaf pledged to meet the demands for democratic change sought by protesters, after he was named as head of the transitional caretaker government by the army.
The US-educated civil engineer and former transport minister told the crowds in Cairo's Tahrir Square that he drew his "will and determination" from the people.
Mr Sharaf opposed Mr Mubarak's government after stepping down from the cabinet five years ago. He actively supported the revolution, joining the street protests in the capital.
The military council, which has been running the country since Mr Mubarak stepped down on 11 February, has ordered the government to run the country's affairs for six months "or until the end of parliamentary and presidential elections".