Profile: Egyptian Prime Minister Essam Sharaf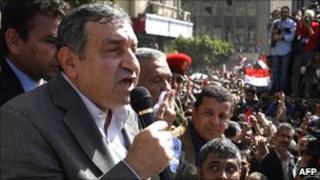 Essam Sharaf is Egypt's first post-revolutionary prime minister.
Having joined the protests in Tahrir Square that toppled President Hosni Mubarak on 11 February, he is a popular figure with Egypt's young revolutionaries.
The 59-year-old former transport minister was named Egypt's new prime minister on 3 March by the country's military rulers.
He replaces Ahmad Shafiq, appointed by Mr Mubarak in the dying days of his regime and roundly rejected by the opposition forces.
The US-educated civil engineer is now tasked with leading the country's transition to democracy.
Addressing crowds of supporters in Cairo's central Tahrir Square a day after his nomination, Mr Sharaf said he derived his legitimacy from the people.
"The task I am trying hard to achieve is to meet your demands, and I will do my best. If I will not be able to fulfil your demands at any time, I will be here [among the crowds of protesters] not here [on the podium]," he told the crowd.
Egypt's largest opposition group, the Muslim Brotherhood, and the secular 6 April Youth Movement, have both welcomed Mr Essam's appointment to the post.
Man of science
Essam Abdulaziz Sharaf was born in Giza governorate in 1952.
He gained a bachelor's degree in civil engineering at Cairo University before completing a doctorate at Purdue University in the US in 1984.
He went on to work as an assistant professor of engineering at Cairo University and King Saud University in Saudi Arabia until his appointment as premier.
During his time in academia, he also acted as a transportation consultant for governments in the UAE, Saudi Arabia and Egypt.
For a brief period from mid-2004 to 2005, he served as transport minister in the former cabinet of Ahmad Nazif and was credited with raising workers' salaries and sacking corrupt officials.
Although he refuses to comment on why he resigned, it was reported that he was unhappy with mismanagement and corruption under Mr Mubarak.
Despite severing official ties with the government in 2005, he stayed on as a chief member of the ruling National Democratic Party until last year.
But he actively supported the revolution, even leading marches in the capital by members of Cairo University's faculty of engineering.
Although a man of science, he is seen as pragmatic, honest and capable of implementing reforms.
Mr Sharaf is also known for his tough stance towards Israel. According to local press reports, he does not support any economic or academic co-operation between Egypt and Israel.
"I am against normalisation of relations with Israel in any area, even in the area of scientific research," he told the independent daily al-Masry al-Youm last year, citing the cases of Palestinian prisoners held in Israeli jails and "fundamental differences" between the two sides.
Other regional issues he has been vocal about include the ongoing dispute with African nations over water from the Nile.
BBC Monitoring selects and translates news from radio, television, press, news agencies and the internet from 150 countries in more than 70 languages. It is based in Caversham, UK, and has several bureaux abroad.