Egypt: Feared former interior minister el-Adly on trial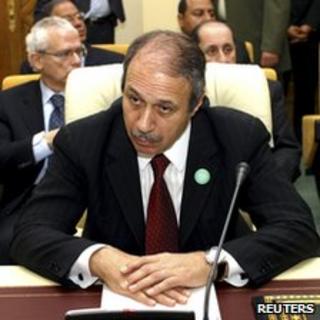 Egypt's feared former Interior Minister, Habib el-Adly, has denied charges of corruption at the opening of his trial in Cairo.
"It didn't happen," he said to allegations of laundering money and unlawfully acquiring public money.
He was arrested in mid-February, days after President Hosni Mubarak resigned in the face of popular protest.
The hearing was adjourned to 2 April as the defence argued for more time to study court papers.
Mr Adly appeared in the dock dressed in white prison clothes, and delivered his answers in a calm voice, an AFP news agency correspondent reports.
There was heavy security around the criminal court in the suburb of Tagammu Khames, with tanks positioned at the entrance.
Dozens of people had gathered outside to demand the death penalty.
"The people want the execution of the murderer," a group chanted, as others held banners depicting the ex-minister with a noose around his neck.
Agency stormed
Mr Adly was arrested along with other ministers and prominent allies of Mr Mubarak in a sweeping investigation into corruption.
He is also accused of ordering the shooting of protesters in Cairo's Tahrir Square, focus of the protests against Mr Mubarak's rule.
On Friday, protesters in the Egyptian city of Alexandria stormed the HQ of the state security agency, saying officers were destroying key documents.
Several people were injured after police inside fired on the protesters, who then broke into the building's lower floors and clashed with police before soldiers arrived and took control of the building.
The force is widely accused in Egypt of human rights abuses, including torture of detainees, and its abolition was a demand of protesters.