New Egyptian prime minister pledges democratic change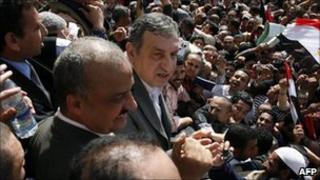 Egypt's new Prime Minister, Essam Sharaf, has pledged to meet the demands for democratic change sought by protesters, and to resign if he fails.
He made the comments in an address before thousands gathered at Cairo's Tahrir Square before Friday prayers.
The former transport minister told the crowds that he drew his "will and determination" from the people.
Mr Sharaf replaced Ahmed Shafiq, who was appointed in the dying days of the regime of Hosni Mubarak.
He was named as head of the transitional caretaker government by the army on Thursday.
On Friday, it was announced that a referendum on constitutional reform in the country would be held on 19 March. Elections for parliament and to choose a new president are scheduled within six months.
Call to rebuild
"I will do my utmost to realise your demands," Mr Sharaf said before a crowd of an estimated 10,000 people in the square that was at the centre of protests that toppled former President Hosni Mubarak last month.
"I am here because I get my legitimacy from you," he said, calling on the protesters to turn their attention to "rebuilding Egypt".
He was carried to and from the podium where he made his speech on the shoulders of protesters.
But he declined the crowd's pleas to take the oath of office in front of them and left the square to chants of "Take the oath, take the oath, take the oath".
The protesters had planned Friday's rally to call for the resignation of Mr Shafiq but went ahead with the gathering as a celebration of the appointment of Mr Sharaf.
A US-educated civil engineer, Mr Sharaf opposed Mr Mubarak's government after stepping down from the cabinet five years ago.
He actively supported the revolution, joining the street protests in the capital.
The military council, which has been running the country since Mr Mubarak stepped down on 11 February, has ordered the government to run the country's affairs for six months "or until the end of parliamentary and presidential elections".
Mr Mubarak is believed to be living in his villa in Sharm el-Sheikh, but is in poor health, and has not been seen or heard of publicly since stepping down.