Libya voices: 'We are not afraid to die'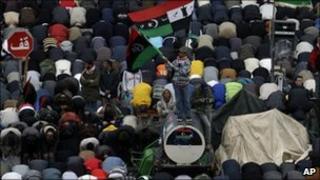 The Libyan capital, Tripoli, is the focus of the world's attention after anti-government protesters returned to the streets to demonstrate against the actions of Col Muammar Gaddafi's regime.
Libyan security forces used tear gas to disperse the crowds after Friday prayers.
BBC website readers in Libya have sent updates on the situation there and sharing their thoughts on what they think could happen next.
Tripoli protester, 1000 GMT
The atmosphere is very quiet - it's the same as yesterday.
So far, it's so quiet there are no people really out on the streets. There are just the checkpoints everywhere.
But we are expecting action due to protests later after the prayers.
We are going out inshallah [God willing] - all of us. We are really just going to go the local mosque and up to Green Square.
We tried to go to Green Square last Friday but Gaddafi's forces stopped us by shooting their guns.
We hope it's going to be the last day inshallah. I'm not scared - why should I be? If I die, I will go to heaven.
The women may be scared; some people are but personally, I'm not. I will protect myself and God will protect us inshallah.
We don't have guns; we don't have anything - we are just innocents.
We hope that the whole of Tripoli will go out today - that's what we are hoping.
People are scared as they are not armed and they don't have guns but we must go out - that's what we discussed last night when we all met yesterday.
We are expecting a lot of people to go out this afternoon.
Tripoli protester, 1700GMT
"I am now in the city centre. I went to our local mosque for prayers and when we got out there were lots of cars and people. The place was full of Gaddafi supporters waving the green flag.
They were pointing their guns at us and used tear gas to separate us.
Many people were arrested. A couple of my friends were arrested and we don't know where they are taking people to.
It's very scary. The place is full of foreigners, Gaddafi supporters.
I live in this city, I am one of the protesters. But we haven't seen these people before. They are from the outside, brought in by Gaddafi and they are controlling the situation at the moment.
My opinion is that he will not give up soon. But the people are not going to give up either. The consequences are going to be severe.
People are scared, they can't go out, he is controlling the situation. We are waiting for people from outside to push and come here. We are ordinary people and they are using guns against us. The situation is quite complicated."
Ali, Brega, 1000 GMT
Brega is quiet today because we have heard the rebels are taking part in lots of talks and want to stay elsewhere to protect their base.
The past few days have been difficult - there have been lots of killings and dead bodies in the hospital.
When we can get on the phones, we sometimes hear from the others that some forces are supposed to be coming and landing in the desert - but how do we know what is true.
We know that Gaddafi's supporters want to kill everybody.
The rebel troops are full of courage and ready and the regime cannot enter the cities.
They are collecting others to go to Tripoli to help protect our citizens.
Ali, Brega, 1500 GMT
Brega is still quiet but near one of the main gates, there are lots of rebels.
I feel safe enough to go out in the street but I have friends who are helping to guard the main gates of the town.
I am constantly in touch with them and my other friends in Ras Lanuf (an area where fierce fighting was reported on Friday).
My friends in Ras Lanuf, whenever they see any movement of the forces they call me directly to warn me what is going on.
I'm not scared but there are lots of families who were in Brega who have moved to the eastern cities.
Earlier this week I was trying to give blood in the hospital here but now they have transferred all the injured guys to the other hospitals elsewhere, so there is less need for me to do that.
Here in Brega, we have fewer problems on the ground but we are still worried about air attacks.
We are sure Gaddafi will still do bad things and blow up the oil fields.