Tunisia president Fouad Mebazaa calls election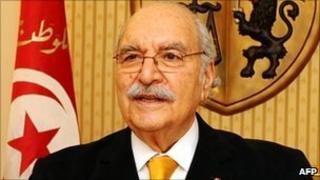 Tunisia's interim president Fouad Mebazaa has announced details of new elections promised after the overthrow of President Zine al-Abidine Ben Ali.
Mr Mebazaa said voting for a council of representatives to rewrite the constitution would be held by 24 July.
He said a new interim government would run the country until then.
Mr Mebazaa said he would also continue in office, even though the current constitution limits caretaker office-holders to a 60-day term.
In a televised speech, he promised to stay in power, "contrary to what has been rumoured, until the elections are held, with the help and support of all".
Power vacuum
Once elected, the constitutional council could either appoint a new government or ask the current executive to carry on until presidential or parliamentary elections are held, Reuters news agency said.
Tunisia has struggled to restore stability since mass protests ousted Mr Ben Ali on 14 January.
On Sunday, Prime Minister Mohammed Ghannouchi resigned from the interim government. Six other ministers have since stood down.
The BBC's Owen Bennett-Jones in Tunis says the power vacuum Mr Ben Ali left behind is becoming ever more apparent.
The political confusion has been compounded by the constitutional provision limiting a caretaker president to 60 days in office, he adds.
Mr Mebazaa has argued that, since the current constitution no longer has any credibility, he will stay in office beyond the limit.
In his speech, he said the constitution "no longer reflects the aspirations of the people after the revolution".
The president must now wait and see if his new plans will spark more protests or receive broad support, our correspondent says.
Last weekend, five people were killed by police during anti-government protests demanding more rapid change.
Nearly two months after Mr Ben Ali fled, protesters are still camping beside the prime minister's office in central Tunis, saying nothing has changed.
But other demonstrators are now urging Tunisians to stop rallying and return to work.