Bahrain unrest: Thousands join anti-government protest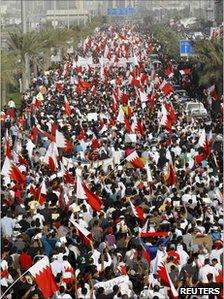 Tens of thousands of Bahrainis have joined an anti-government rally in the capital, Manama.
"The people want the fall of the regime," protesters chanted on the first organised rally in the kingdom since protests erupted last week.
The protesters are putting the government under pressure, analysts say, extracting concessions such as the release of political prisoners.
Protesters have been inspired by events in Egypt and Tunisia.
The pro-democracy supporters remain camped out in Pearl Square, in the city centre, refusing to enter talks with the Crown Prince until their demands are met.
Aside from the prisoner release - no details of which have yet been given - they want the government to resign, the deaths of protesters to be investigated, and political reforms that will lead to a constitutional monarchy.
Some protesters have also called on King Hamad bin Isa al-Khalifah to step down.
The king's stated new commitment to dialogue may be put to the test late on Tuesday, analysts say, if Hassan Mushaima - leader of the opposition Haq movement - makes good a pledge to return to Bahrain from exile in London.
Mr Mushaima is on trial in absentia, one of 25 people charged in connection with an alleged coup plot, though opposition figures say they expect him to be included in the prisoner amnesty.
Seven people were killed and many wounded in the past week as security forces used force to quell protests, before being ordered to withdraw on Saturday.
The road from Manama's Bahrain Mall to the central Pearl Square became a sea of red and white flags as tens of thousands joined the pro-democracy rally.
It was dubbed "the march of loyalty to martyrs" - those killed by security forces last week.
Most chants called for the fall of the government.
"Some want the family out but most only the prime minister," said protester Abbas al-Fardan, referring to Prime Minister Sheikh Khalifah bin Salman, the king's uncle who has been in power since 1971 and is a hate figure among many Shia.
"We want a new government, the people need to rule the country."
Earlier on Tuesday, thousands joined the funeral procession of Redha Mohammed as it wound its way through the streets of Manama while mourners chanted anti-government slogans, the AFP news agency reported.
The 20-year-old died of his wounds on Monday after he was shot by police while attending another funeral march three days earlier, his family said.
The marches come after pro-government Sunnis rallied in their thousands at a Manama mosque on Monday evening, pledging loyalty to the al-Khalifa royal family, and calling on protesters to answer an invitation by Crown Prince Salman bin Hamad to engage in wide-ranging talks on political reform.
Bahrain is one of several Arab countries to have experienced pro-democracy demonstrations since the fall of long-time Tunisian President Zine El Abidine Ben Ali in January. Egypt's Hosni Mubarak was forced from power on 11 February.
The majority Shia population in Bahrain have long said they are discriminated against when it comes to housing and government jobs. They have also been calling for greater political rights from the Sunni royal family.
But the protesters have been careful to describe their revolt as non-sectarian, chanting slogans such as: "There are no Sunnis or Shias, just Bahraini unity."