Egypt unrest: Higher Military Council statement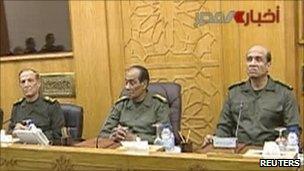 Egypt's Higher Military Council issued a televised address on Thursday, saying it was in a state of continuous session to protect the nation and meet the aspirations of the people. The move comes after two weeks of mass demonstrations calling on President Hosni Mubarak to resign.
Footage aired on the state-run Nile News TV showed Defence Minister Field Marshal Hussein Tantawi chairing the meeting of two dozen army officers seated around a table. Here is the full text of the statement read out by a spokesman
Statement Number One, issued by the Higher Council of the Armed Forces,
Stemming from the armed forces' responsibility and committing to the protection of the people, safeguarding their interest and security, and keen on the safety of the homeland, the citizens and the achievements of the great Egyptian people, and asserting the legitimate rights of the people,
The Higher Council of the Armed Forces convened today, Thursday, 10 February 2011, to deliberate on the latest developments of the situation and decided to remain in continuous session to discuss what measures and arrangements could be taken to safeguard the homeland and its achievements, and the aspirations of the great Egyptian people.
Peace, mercy and the blessings of God.