Egypt protests: US call to Hosni Mubarak's government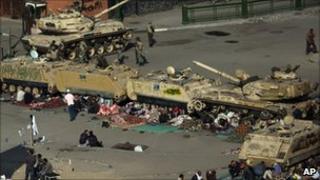 The US has called on the Egyptian government to lift its 30-year-old state of emergency immediately.
Earlier, the White House described as "particularly unhelpful" comments by Egyptian Vice-President Omar Suleiman that the country was not ready for democracy.
Mr Suleiman has warned of a coup if constitutional reforms fail.
Tuesday saw one of the biggest anti-government rallies in Cairo since the protests began on 25 January.
It came despite the government's announcement of its plans for a peaceful transfer of power.
President Hosni Mubarak has said he will stay in office until elections in September, when he plans to step down.
US pressure
US Vice-President Joe Biden urged that the transition should produce "immediate, irreversible progress that responds to the aspirations of the Egyptian people".
He also called on the Egyptian government to stop arresting and beating journalists and activists. The interior ministry should be restrained immediately and there should be a clear policy of no reprisals, Mr Biden said.
Earlier on Tuesday, US President Barack Obama's spokesman, Robert Gibbs, said Mr Suleiman's remarks about Egypt not being ready for democracy were "particularly unhelpful", adding that they do not square with the idea of a timetable for progress.
The US vice-president has been phoning his Egyptian opposite number on an almost daily basis and his latest call is the toughest yet, says BBC North America editor Mark Mardell.
The focus now seems not to be on President Mubarak and his future but on what the White House calls "concrete reforms", our editor says.
So far the administration's repeated suggestions over the last week have been met largely by grudging commitments from the Egyptian authorities and little action, he adds.
As the protests entered their third week, hundreds of thousands of Egyptians poured into Cairo's Tahrir Square for the latest protest. Initial attempts by the army to check the identity cards of those joining the demonstration were quickly abandoned because of the sheer weight of numbers.
Wael Ghonim, a Google executive who was detained by state security forces for 12 days, often blindfolded, was feted by the crowds as he entered Tahrir Square. He is credited with setting up the page on the Facebook social network that helped galvanise protesters.
"We will not abandon our demand and that is the departure of the regime," Mr Ghonim told protesters in the square, to cheers and applause.
Large crowds also demonstrated in the second city, Alexandria, and other Egyptian towns and cities.
In his response to the protest movement that has presented by far the most serious challenge to his 30-year rule, President Mubarak has set up one committee to propose constitutional changes, and another is being formed to carry the changes out.
Among the key expected changes are a relaxation of the rules on who is eligible to stand for president, and the setting of a limit for presidential terms.
Vice-President Suleiman said a third committee, expected to begin its work in the next few days, would investigate clashes between pro- and anti-Mubarak groups last week and refer its findings to the prosecutor-general.
He also said President Mubarak had issued directives to stop repressive measures against the opposition.
Many protesters have said they are sceptical about any transition managed by the government.
"We don't trust them any more," Ahmed, one young Egyptian queuing to get into Tahrir Square, told the BBC. "How can Suleiman guarantee there'll be no more violence around the election after all the attacks we've seen on young people?"
Death toll
The unrest over the last two weeks has seen fierce clashes with police, and pitched battles between protesters and Mubarak supporters.
Human Rights Watch (HRW) researchers say they have confirmed the deaths of 297 people since 28 January, based on a count from eight hospitals in the cities of Cairo, Alexandria and Suez. No comprehensive death toll has been given by the Egyptian government.
Some economic activity has resumed, but authorities have delayed reopening the stock exchange until Sunday. On Friday it was estimated that the paralysis resulting from the unrest had been costing the economy an average of $310m (£193m) a day.
The number of those on Tahrir Square has been swelling each day and dropping back overnight.
Meanwhile, leaked US diplomatic cables carried on the Wikileaks website have revealed that Mr Suleiman was named as Israel's preferred candidate to succeed President Mubarak after discussions with American officials in 2008.
As Egypt's intelligence chief, he is said to have spoken daily to the Israeli government via a secret "hotline" on issues surrounding the Hamas-run Gaza Strip.