Iraq PM Nouri Maliki 'will not seek third term'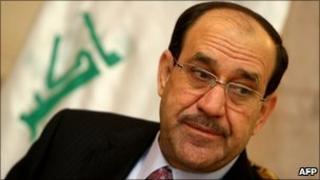 Iraqi Prime Minister Nouri Maliki has said he will not seek a third term in office when his mandate runs out in 2014, state media say.
Mr Maliki returned for a second term after polls last year but endured nine months of wrangling before a unity government could be formed.
He said he would back the insertion of a clause in the constitution bringing in a two-term maximum.
The move comes amid continuing pro-democracy protests in the Middle East.
There has been widespread unrest, including in Tunisia, Egypt, Yemen and Jordan.
'Change is necessary'
Mr Maliki told Agence France-Presse: "The constitution does not prevent a third, fourth or fifth term, but I have personally decided not to seek another term after this one.
"I support the insertion of a paragraph in the constitution that the prime minister gets only two turns, only eight years, and I think that's enough."
Referring to Egypt, he said: "The people have the right to express what they want without being persecuted.
"One of the characteristics of a lack of democracy is when a leader rules for 30 or 40 years. It is a difficult issue for people, it is intolerable and change is necessary."
Mr Maliki this week decided to give half his pay back to the treasury in a gesture viewed as an acknowledgement of the income gap between rich and poor.
Mr Maliki faces a number of key challenges in his second term, including the continuing instability and violence, the division of oil wealth and the planned withdrawal of US troops by the end of 2011.
Mr Maliki's Shia bloc fell two seats short of a majority early last year, triggering a political crisis that gave Iraq the unenviable record of the longest time ever to form a working government.
Mr Maliki eventually pulled together a unity government that included a number of MPs who are followers of staunchly Shia cleric Moqtada al-Sadr.