Will this be Mubarak's 'day of departure'?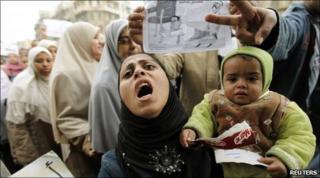 Anti-government demonstrators in Egypt are continuing to call for large protests on Friday, saying this will be the "day of departure" for President Hosni Mubarak.
On its Facebook page, the pro-democracy April 6 Youth Movement - an organising force behind the rallies - says they intend to remember the "martyrs" killed after Friday prayers one week ago.
In an interview with ABC News, Mr Mubarak has suggested that he now wants to leave office but is hanging on, fearing chaos could result if he stood aside.
The situation on the ground remains extremely tense. Egypt's Vice President Omar Suleiman has called for demonstrators to leave Tahrir Square, in central Cairo.
"End your sit-in. Your demands have been answered," he said in an interview on state television. "We ask you to give the government a chance to fulfil its role."
Earlier, the new Prime Minister Ahmad Shafiq apologised for the outbreaks of violence involving government supporters.
'More than enough'
However, people among the crowds in Tahrir Square were unimpressed.
Their positions have hardened after recent fighting with pro-government gangs.
"Hosni Mubarak killed his people. We hate him. He is a dictator and we want him to go," said Fathy Mugazi.
"We want only free elections and an end to corruption. This will never come from this government," said another member of the crowd, Ahmed Mohamad.
"Mubarak - you have to leave, this is more than enough."
In Cairo and Alexandria, foreign journalists covering the dramatic events are increasingly being targeted.
Many have been attacked by pro-government mobs on the streets.
Security forces have also confiscated equipment and arrested dozens of media workers.
Officials repeatedly blame satellite channels for fuelling anger against the government.
The US state department has condemned what it called "a concerted campaign to intimidate" journalists.
Lawlessness that had largely eased since the weekend is now increasing again.
Ablaze
A fire broke out at a shopping complex in Sheikh Zayed, to the west of the capital, on Thursday and looters ransacked the stores.
Other blazes have been reported in residential areas and on the Nile Corniche, several blocks away from Tahrir Square.
Activists camping in the square forecast that the next 24 hours will be another key test for their cause.
"You can see the mood here. It's increasingly desperate," said one man, who has been sleeping outside for a week. "We are hungry and dirty and we have a lot of injuries."
Many expect now more clashes with rival forces.
They continue with chants suggesting the army and the people are united "in one hand". The army has promised not to fire on people and agreed that their demands are legitimate.
Symbolically, the guns of most tanks are pointing away from the square.
But individual soldiers, speaking off-the-record, predicted that the protest would end soon.
It has been suggested they could try to seal off the square to stop the flow of people and choke their supplies in an effort to send them home peacefully.