Yemen activists breaking new ground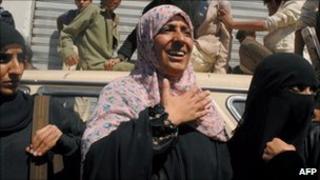 Popular unrest is growing in Yemen, putting the spotlight on the activists who want to help shape the country's future, writes the BBC's Lina Sinjab.
Fearless and hungry for change, 31-year-old Tawakul Karman sits behind her desk in her house in Yemen's capital, Sanaa, watching the latest posts on Facebook.
"It all started here. The Tunisians, then the Egyptians, and now it is our turn," says the mother of two, who heads the campaign group Women Journalists Without Chains.
Like many Yemenis, she is fed up with what she considers to be a corrupt government.
Ms Karman, who was recently freed from detention, is still being closely watched by the government for calling on President Ali Abdullah Saleh to step down.
But this does not shake her resolve.
"If we don't fight now, we will lose everything," she says, while cheerfully showing her four-year-old daughter what she is doing on Facebook.
However, not all Yemenis share her desire for such rapid change.
The pro-government al-Aqiq TV station invited young activists to take part in a debate on the future of the country, among them members of the Will of Youth organisation, a small opposition group established a few years ago.
The activists expressed a desire for change but said they did not want to get rid of the president.
As they were outlining their vision for change, all of them had white ribbons wrapped around their hands. "This is our symbol of peaceful change," they said.
Sat on stage among four other speakers, the Will of Youth's Husein Khalil al-Kubati said: "We are the changers, but let's start with ourselves first and be better. We love Mr Saleh, but we must change." 
Taha Muthanna, from the Eyoun Shabbah group, another small youth movement, said it was important to allow young people to have a say in shaping the country.
"I want to be part of the process of developing the community and change," said Mr Muthanna.
Still, he thinks Yemen is different to Egypt or Tunisia.
"We have a different community, different culture. We need to change but we need to come up with our model of change," he said.
Mr Muthanna will not participate in the so-called day of rage on Thursday.
"It is the opposition demonstration and not ours," he says. 
"Even the youth who are there don't represent all Yemenis. We have an active civil society, an active youth movement and we will bring about change peacefully and gradually."
Since the first big demonstration last week, the government has opened dialogue with the opposition.
On Wednesday, the president said he would not stand for another term in office, and assured parliament that he is not going to try to hand over power to his son.
The opposition and ruling party are due to hold more talks on Wednesday, and many believe that a deal is in the making to defuse the tension and head off the protests planned for Thursday. 
Gun problem
Some opposition activists are likely to be satisfied with Mr Saleh's concessions.
Speaking before the president agreed to step down, Mohamad al-Mutawakel, of the Common Forum opposition alliance, said: "I think Mr Abdullah Saleh will learn from Egypt and Tunisia... he is clever enough to make a change."
But he added: "If he doesn't make political reform and have free elections, it will be Tunisia."
The Common Forum includes the five biggest opposition groups in Yemen, including Reform, Socialist, Nasserist, Popular Force and al-Haq.
"As political parties, we think if we can solve this problem in a peaceful way it will be better for Yemen because everyone has guns," said Mr Mutawakel.
This is the big concern. Yemen is a tribal system and weapons are widely available. It is the poorest country in the region and level of literacy is low.
But political analyst Abdul Ghani al-Iryani believes the comparison between Yemen, Egypt and Tunisia is not accurate.
"The public expression of protests in Yemen has been in the form of rallies rather than street demonstrations," he says.
Mr Iryani believes that the protesters want dialogue aimed at finding a new settlement, rather than overthrowing the regime.
"The regime has a battery of concessions that they could give to defuse the tension without losing control," he says.
Any concessions given will not affect the dominance of the General People's Congress or its majority in the parliament, he says.
Mr Iryani hopes the ruling party will come up with some suggestions to appease the opposition and give people hope.
Yemenis will expect proposals for a national unity government at the very least.