Tears, chants and hope as crowds fill Cairo square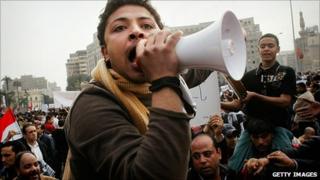 The din of whistles and shouts can be heard more than a mile from Tahrir Square by the long column of people marching into the heart of the protest.
One elderly man dressed in a traditional, long gallabiyya, is already overcome with emotion and wipes a tear from his eye as he makes his way across the bridge over the Nile.
He starts up a new chant with the crowd around him: "The people and the army are one."
An announcement by the military that it would not use force against the Egyptian people and considered their demands legitimate reassured many wanting to join this protest.
Despite the crush of people at the entrance to the square, proceedings are surprisingly orderly. Soldiers standing on tanks hand out chocolates as they check demonstrators' bags and identity cards.
In the square many huge banners are strung up alongside red, white and black Egyptian flags.
One instructs President Hosni Mubarak simply: "Go". Another in the centre states: "People demand the removal of the regime."
"We want a new president who will love the Egyptian people," says Ali Ahmed Ali, a teacher.
"Our only demand now is for President Mubarak to get out. Then we will have a free election and the youth will choose who we want."
Ibrahim, 22, says: "All my life I have just seen President Mubarak.
"I want to say, 'please understand us this one time. Let us create our own future'."
'People must decide'
There are disagreements when people are asked whom they would like as the new leader.
"ElBaradei," suggests a smartly dressed student, referring to the former UN nuclear watchdog chief who is now a prominent opposition figure.
He is quickly shouted down by another man who thinks the former diplomat is out of touch with ordinary Egyptians.
"No, no not him," he says. Then he adds: "But what is most important, the people must decide."
Calls have changed significantly in one week.
The first "day of rage" demanded action against Interior Minister Habib al-Adly and his security services, and an end to unemployment.
Now nothing less than the president's departure will satisfy the crowds.
One demonstrator shows a pass proving that he works in Mr Mubarak's office.
He describes the man who has ruled for three decades as a "criminal".
"He forged the last elections," he says, referring to the parliamentary vote last November.
"What else can you call him? We are providing to the world an example of the value of free speech," he adds.
More than 100,000 people have already joined the demonstrations and they continue to pour into the square.
"I want to feel like I belong. I want to feel the pulse of the people and to share with them this historic moment," says one woman, Tahani.
"I just hope this will all end the way we want."