Views: Life on hold in Egypt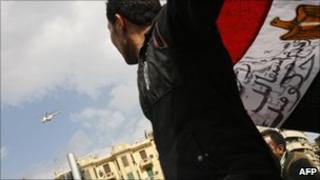 Beleaguered Egyptian President Hosni Mubarak has announced a new cabinet amid mounting pressure from protesters who have gathered in Cairo again in their tens of thousands.
How is the ongoing unrest in Egypt affecting the day-to-day lives of Egyptians and how do they see the future of their country?
BBC Arabic speaks to a number of Egyptians to find out.
Noha, housewife, Cairo
I live in a state of panic. I feel like I live in one of those areas of conflict I hear about in the news.
I can not go down to the street by myself or with my little daughter. It is not the same country anymore.
People here have major grievances against the security forces. The majority of the time, groups of young demonstrators are the ones starting clashes with them.
These young people do not know how best to deal with security personnel and are only making matters worse.
With great regret, I do not see a future. I wouldn't want my children to grow up in this environment. I can see the beginning of the end of a united Egypt as we know it.
Ahmed Mohamed, accountant, Alexandria
There are still great uncertainties regarding work. I have yet to receive any instructions from the Cairo office whether I should report for work or not, for example.
I know that 90% of staff are absent and I do not know of any plans in place for securing the power plants.
The presence of the army is useful, but it's difficult for them to deal with such situations. Security is fine during the day but as night falls, people are scared.
Shops are also under pressure because of fears of people buying out the remaining stock of commodities.
The future, for me, looks good because I believe this country, and I believe we can overcome any difficulties. I also see any future changes will be for the best for Egypt.
Mohammed, unemployed, Suez
I was on the verge of getting a job, which I have been longing for, just before the current events. All this is now on hold.
I cannot leave home except to buy certain essential items. I cannot also use the internet because of the interruption in the service.
I suffer from insomnia at night and I cannot sleep, despite the fatigue. I live a state of fear. I woke up startled the day before when I heard the door to my apartment opening. It was just my mum.
I wish the situation would calm down. I would like to get a job, and even be able to support my mother.
I also hope I can afford to get married soon. All I am asking for is to live like any other human being.
Hamdi Al Fakharany, businessman, Giza
The current events are affecting the lives of everyone. No selling or buying in the shops, neither are people going to work. It's a state of complete paralysis. There is a state of fear in the country. We hope things will end on a good note.
The president must step down. Is he waiting for things to get worse? Or is he waiting for America and Israel to rescue him?
If the constitution is amended and free and fair elections are held then the future is bright for this country, even if the economic downturn continues.
Our generation is not that important. What is important is our children's generation. I feel scared for the future of my son.
Mohammed Omar, recruitment specialist, Damietta
Living in a state of fear for the sake of properties. The local police station is empty.
People have organised their own walking patrols to protect homes and lives. Army has not appeared here yet.
I'm always in touch with family and friends on the phone to check on them.
I am concerned about the future. There is no trace of the Ministry of Interior, which employs about one million people.
For the ministry to resume its work, it will take a long time.
It will also take time for the military to reach all parts of the country.
I am pessimistic about the future.