In quotes: Reaction to Egypt protests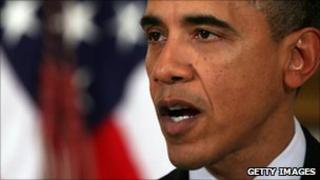 International leaders and heads of state have reacted to mass street protests across Egypt calling for the resignation of President Hosni Mubarak.
The president has ordered troops and tanks into cities in an attempt to quell demonstrations intended to unseat him after three decades in power.
Thousands have defied curfews and are continuing to call for Mr Mubarak to stand down.
US President Barack Obama
I want to be very clear in calling upon the Egyptian authorities to refrain from any violence against peaceful protesters.
The people of Egypt have rights that are universal. That includes the right to peaceful assembly and association, the right to free speech, and the ability to determine their own destiny. These are human rights. And the United States will stand up for them everywhere.
I also call upon the Egyptian government to reverse the actions that they've taken to interfere with access to the internet, to cell phone service and to social networks that do so much to connect people in the 21st Century.
At the same time, those protesting in the streets have a responsibility to express themselves peacefully. Violence and destruction will not lead to the reforms that they seek.
When I was in Cairo, shortly after I was elected president, I said that all governments must maintain power through consent, not coercion. That is the single standard by which the people of Egypt will achieve the future they deserve.
Israeli Prime Minister Benjamin Netanyahu
We are following with vigilance the events in Egypt and in our region... at this time we must show responsibility and restraint and maximum consideration.
Our efforts have been intended to continue to preserve stability and security in our region.
I remind you that the peace between Israel and Egypt has lasted for over three decades.
Iranian Parliamentary Speaker Ali Larijani
The Americans can tolerate seeing bloodshed in Egypt but not a regime fall in Egypt into the hands of the people.
British Foreign Secretary William Hague
We call on the government to exercise restraint and on the Egyptian people to pursue their legitimate grievances peacefully.
President Mubarak spoke last night of his commitment to take new steps towards greater democracy and freedom for the citizens. We call on him now to listen urgently to the aspirations expressed by the Egyptian people.
He must seize this moment to make these reforms real and visible and to base them on the universal values that are the right of people in all countries.
We are working with our EU partners and other allies on the latest developments to deliver a clear, co-ordinated message about our expectations of President Mubarak and, in particular, the need for him to take responsibility to deliver change. Peaceful reform, not repression, must be the way forward.
European Council President Herman Van Rompuy
I am deeply troubled by the spiral of violence leading to a situation which makes dialogue even more difficult. The respect for fundamental human rights, such as the freedom of expression, the right to communicate, and the right of free assembly, as well as social inclusion are constituent elements of democracy which the Egyptian people, and in particular the young, are striving for.
History has shown that dialogue can also lead to change if a conducive environment is built, without the use of force or a military crackdown.
I therefore call for the cessation of violence to stop bloodshed, the release of all those arrested or under house arrest for political reasons, including political figures, and to set the necessary reform process in motion.
King Abdullah of Saudi Arabia
No Arab or Muslim can tolerate any meddling in the security and stability of Arab and Muslim Egypt by those who infiltrated the people in the name of freedom of expression, exploiting it to inject their destructive hatred.
Swedish Foreign Minister Carl Bildt
You can describe it as a demographic tsunami to the south of the Mediterranean that can only be met by sustained economic reforms.
It is now even more obvious that what Egypt needs is a political initiative that leads to an open and democratic presidential election later this year.
German Chancellor Angela Merkel
I'm calling upon all involved, and especially the Egyptian government and the president, to allow peaceful demonstrations, to give the freedom of opinion a chance. We have to come to a peaceful dialogue in Egypt because the stability of the country is of extraordinary importance.
UN Secretary General Ban Ki-moon
I believe that one of the ground principles of democracy should be to protect the freedom of speech of the people. All concerned people or leaders should ensure that the situation in that region, and particularly now in Egypt, does not and should not lead to further violence.
Italian foreign ministry
Italy is tracking developing events in Egypt with attention and serious concern. We express our deep regret over the civilian casualties, and we urge the immediate cessation of every kind of violence, and respect for civil rights and for freedom of speech and communication, including the right to hold peaceful rallies.
Egypt's stability is a priority for us and for the whole region. Italy, Egypt's friend and partner, considers that stability must be consolidated through concrete and constructive dialogue between the institutions and society at large.