Egypt's opposition pushes demands as protests continue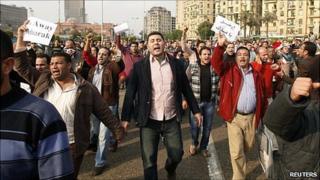 Anti-government demonstrations in Egypt have continued for more than a week. Inspired by the recent uprising in Tunisia, they have involved hundreds of thousands of Egyptians from a variety of opposition groups. But just who are these opposition movements and what are their demands?
6 APRIL YOUTH MOVEMENT
This youth opposition coalition was the main organising force behind Tuesday's demonstrations.
It started the call for the "day of anger" on Tuesday 25 January, citing a list of demands on its website. They included the departure of the interior minister, an end to the restrictive emergency law, and a rise in the minimum wage.
The movement is urging Egyptians to "take to the streets and keep going until the demands of the Egyptian people have been met".
The movement began as an Egyptian Facebook group in 2008 to support workers in the northern industrial town of Mahalla al-Kubra and called for a national strike on 6 April that year.
Members, who include many young well-educated Egyptians, have shown a greater willingness than others to risk arrest and start public protests.
They have successfully organised pro-democracy rallies and a large welcoming party for the former United Nations' nuclear watchdog chief, Mohamed ElBaradei, when he returned to his home country in February 2010.
The group uses Facebook, Twitter and Flickr to alert its networks about police activity, organise legal protection and publicise its efforts.
NATIONAL ASSOCIATION FOR CHANGE (NAC)
This umbrella organisation for opposition groups was set up by Mohamed ElBaradei when he returned to Egypt after many years abroad, declaring his wish to be a "tool for reform".
Mr ElBaradei has backed the protests, saing in an earlier tweet: "Fully support call 4 peaceful demonstrations vs. repression & corruption. When our demands for change fall on deaf ears what options remain?" Several members of his group were summoned by security services in the run-up to demonstrations.
On 25 January, the NAC issued a statement calling on President Hosni Mubarak not to seek a sixth term in September's presidential election and opposing any succession of power by his son, Gamal. It also demanded dissolving the newly elected parliament, where the ruling NDP controls more than 90% of seats.
In the NAC, leaders of liberal political parties like al-Ghad and the Democratic Front are represented alongside Islamists from the Muslim Brotherhood. The loose coalition also includes prominent intellectuals and veteran activists, among them members of Kefaya, the Egyptian Movement for Democratic Change, which organised unprecedented rallies ahead of elections in 2004.
The NAC has demanded an end to the state of emergency and democratic and constitutional reforms.
Efforts to collect a million signatures in support of its programme were significantly boosted by the active involvement of the Muslim Brotherhood.
However divisions grew when the Islamist group would not join its boycott of last year's parliamentary elections.
The groups were already at odds over strategy, with many activists advocating more direct confrontation of the regime than Mr ElBaradei was prepared to countenance.
MUSLIM BROTHERHOOD
Despite an official ban, the Muslim Brotherhood is Egypt's largest and most organised opposition movement.
The interior ministry blamed the organisation for rioting that took place on Tuesday, saying that a number of protesters "particularly a large number of those affiliated with the Muslim Brotherhood… began to riot, damage public property and throw stones at police forces".
However, their numbers in the protests is unclear. The conservative leadership decided not to fully endorse the demonstrations to the anger of some younger supporters.
A senior spokesman, Essam el-Erian, said he did expect large numbers of the organisation's members to participate of their own accord, and called on them to stick to peaceful methods. Leaflets outlining its political demands were distributed at the rally.
Until last year, Muslim Brotherhood members (running as independent candidates) held one-fifth of seats in the last parliament. But it lost its representatives in the 2010 parliamentary election. After a first round of voting was marred by serious fraud and violence, it decided to boycott the second round.
In the past, the group has proven able to draw large crowds out onto the streets but has mostly avoided directly challenging the government. It has organised large protests against Israel's war in Gaza and the US-led war in Iraq, for example.
WAFD PARTY
This well-established party does not enjoy popular support, but previously led the official opposition in parliament.
It then boycotted the second round of the last elections because of widespread vote rigging.
Along with its president, al-Sayed al-Badawi, it has often been accused of being too close to the government and giving it the cover of an official secular opposition.
Like the Muslim Brotherhood, Mr al-Badawi did not join Tuesday's protests, but gave his approval for the youth of his party to participate in their personal capacity.
He then announced his own demands on Arab satellite television for the dissolution of parliament, a new national unity government and new elections under a proportional representation system.
AL GHAD PARTY
The founder of the liberal al-Ghad (Tomorrow) party, Ayman Nour, spent over three years in prison on what were widely seen as trumped-up forgery charges after finishing a distant second to President Mubarak in the last presidential election.
While he was behind bars, his party was taken over by government supporters.
Its headquarters were then set on fire in a dispute between rival factions.
Since his release in February 2009, Mr Nour has been a regular presence at anti-government demonstrations.
His group set up a movement to oppose presidential succession before joining the National Association for Change.
Mr Nour is still thought to harbour presidential ambitions but no longer has the high profile he did in 2004. He joined in Tuesday's protest.