Palestinian papers: UK's MI6 'tried to weaken Hamas'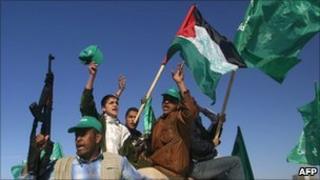 Leaked documents relating to the Middle East peace process suggest Britain's intelligence service has been closely involved in attempts to weaken Hamas.
The documents, published by al-Jazeera, date back to 2004, before the militant group won elections in 2006 and took control of the Gaza Strip.
The Foreign Office says it has a long-standing policy not to comment on intelligence matters.
The BBC has been unable to independently verify the papers.
The Arabic news network al-Jazeera is gradually publishing 1,600 confidential documents from more than 10 years of secret US-brokered Middle East peace talks.
The seven-page Palestinian Security Plan, written by British intelligence officials, says its objective is to "encourage and enable the Palestinian Authority (PA) to fully meet its security obligations under Phase 1 of the Roadmap" - the US-backed 2003 peace initiative, under which Israel agreed to stop settlement building and Palestinians to clamp down on militant activity.
It proposes a number of ways of "degrading the capabilities of rejectionists", naming Hamas, PIJ (Palestinian Islamic Jihad) and the al-Aqsa Brigades.
This would involve "the disruption of their leaderships' communications and command and control capabilities; the detention of key middle-ranking officers; and the confiscation of their arsenals and financial resources held within the Occupied Territories".
Israel talks
The document goes on to suggest: "We could also explore the temporary internment of leading Hamas and PIJ figures, making sure they are well-treated, with EU funding".
The BBC's security correspondent Frank Gardner says the news that MI6 have been involved in such plans is controversial.
While some will say MI6 was simply helping the PA to restore law and order in the Occupied Territories, there have been numerous allegations of abuse by the Palestinian security officials, so there will be suggestions that Britain has been in some way colluding with the PA in this, says our correspondent.
The Foreign Office said the UK "absolutely condemns any abuse of human rights", and has been involved in a programme to build the capacity of the Palestinian Security Forces for a number of years.
In a statement, it said the UK has previously provided funding for training in all aspects of government and currently provides budgetary support to the PA as well as a leadership programme "which focuses on teaching the importance of human rights to middle and high ranking members of the security forces".
Also released on Tuesday was a handwritten account of an alleged 2005 meeting between Israel's then defence minister, Shaul Mofaz, and the PA's interior minister, Nasser Youssef.
In it, the men discuss Hassan al-Madhoun, a member of the al-Aqsa Martyrs' Brigades which is linked to Hamas' rival, Fatah.
Mr Mofaz asks: "Why don't you kill him?", to which Mr Youssef replies that he has given instructions to West Bank security chief Rasheed Abu Shabak" and that "we will see".
Hassan al-Madhoun was killed in an Israeli air strike a few months later.
And in a document dated 17 April, 2009, Mr Erekat is reported as telling US official David Hale: "We have had to kill Palestinians to establish one authority one gun and the rule of law."
Others alleged revelations from the Palestinian Papers outline major concessions Palestinians offered during talks, which were rejected by Israel. They include:
a formal offer to allow Israel to annex all but one Jewish settlements built in occupied East Jerusalem
an international committee to take over Jerusalem's Temple Mount, which houses the Dome of the Rock and Al-Aqsa Mosque - Islam's third holiest site
limiting the number of Palestinian refugees returning to 100,000 over 10 years
Palestinian leaders say the disclosures have been taken out of context. They are now searching for the source of the leaks.
Speaking on Tuesday, Mr Erekat accused al-Jazeera of mounting "the most severe smear campaign in the history of journalism" and called on the station to "publish the Palestinian official papers and positions on Jerusalem, borders, settlements, refugees and all other issue".