US says Palestinian leaks make a deal 'more difficult'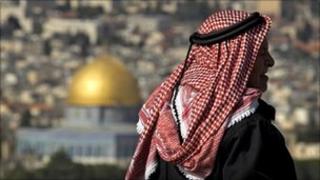 The US has said the emergence of leaked documents which purport to show major Palestinian concessions to Israel does not affect efforts to achieve peace.
The State Department said the leaks would make a deal more difficult but one was "both possible and necessary".
The latest leaks show the Palestinians agreed to limit the number of refugees allowed to return to their homes in what is now Israel under a peace deal.
The BBC has been unable to verify the documents independently.
The documents have been released by al-Jazeera TV, which says it has more than 1,600 confidential records of meetings, e-mails, and communications between Palestinian, Israeli and US leaders covering the years 2000-2010.
The papers, believed to have originated from the Palestinian side, show an apparent willingness to accept Israel's annexation of much of East Jerusalem.
They reportedly proposed an international committee to take over Islamic and Jewish holy sites in Jerusalem, and offered to limit the number of refugees returning to Israel as part of a peace deal.
These highly-sensitive issues have previously been non-negotiable. All were apparently rejected by the Israelis.
Current peace talks have been suspended for months over Israel's refusal to stop building Jewish settlements on occupied Palestinian land.
'Clear-eyed'
US Secretary of State Hillary Clinton said the issues referred to in the leaks were well known.
"They are difficult issues. They do not lend themselves easily to compromise," she said in brief comments during a visit to Mexico.
US State Department spokesman Philip Crowley said nothing in the papers changed "our understanding of what is at stake and what needs to be done".
"We don't deny that this release will, at least for a time, make the situation more difficult than it already was," he said.
"But we are clear-eyed about this, we always recognised that this would be a great challenge but it doesn't change our overall objective."
Mr Crowley said the US had spoken to all the parties concerned since the release of the papers began on Sunday.
"We continue to believe that a framework agreement is both possible and necessary, so we continue to work and engage the parties as we've done throughout the process," he said.
According to the latest documents published by al-Jazeera, the Palestinian negotiators were willing to discuss severely limiting the number of Palestinian refugees returning to Israel.
The Palestinian had demanded the return of 10,000 refugees a year over a 10-year period. The Israelis responded with an offer of 10,000 in all. It is not clear whether the Palestinians accepted the offer.
There are an estimated five million Palestinians living overseas, either those who fled or were forced to leave their homes when Israel became a state in 1948 or their descendents, and their right to return has been a key issue of talks.
Palestinian President Mahmoud Abbas is reported to have said it was "illogical" to ask Israel to take all five million as it would "mean the end of Israel".
The papers also show that the Palestinians were willing to accept demands that Israel be defined as a Jewish state - the Palestinians had previously resisted such a definition as it is opposed by Israel's Arab citizens and would wipe out the right of return.
Mr Erakat is quoted as saying this was no longer an issue, telling Ms Livni in November 2007: "If you want to call your state the Jewish state of Israel you can call it what you want."
Ms Livni, meanwhile, repeatedly suggested a land swap with the Palestinians, so several Jewish settlements in the West Bank would become part of Israel while Israeli Arab were moved out of Israel.
Correspondents say while this move would have been on a limited scale, it is the first time Israel has apparently suggested moving populations to either side of future borders, rather than just swapping land.
Gaza tip off
The alleged offers relating to East Jerusalem are the most controversial, as the issue has been a huge stumbling block in Mid-East talks and both Israelis and Palestinians claim Jerusalem as their capital.
Israel has occupied the West Bank, including East Jerusalem, since 1967, establishing close to 500,000 Jews in more than 100 settlements. Both Israelis and Palestinians claim Jerusalem as their capital.
But in May 2008 Ahmed Qurei - the lead Palestinian negotiator at the time - proposed that Israel annex all Jewish settlements in East Jerusalem except Har Homa (Jabal Abu Ghneim), in a bid to reach a final deal.
The papers quote chief Palestinian negotiator, Saeb Erekat, as saying they were "offering the biggest Yerushalayim [Jerusalem in Hebrew] in Jewish history".
Palestinian negotiators are also said to have proposed an international committee to take over Jerusalem's Temple Mount/Haram al-Sharif, which houses the Dome of the Rock and al-Aqsa Mosque - Islam's third holiest site.
The leaks also purport to show that Palestinian leaders were "privately tipped off" about Israel's 2008-2009 military offensive in Gaza, a claim Mr Abbas has denied in the past.
Without confirming the veracity of the reports, Israeli government spokesman Mark Regev said the then Israeli Prime Minister Ehud Olmert had also made concessions which were rejected by the Palestinians.
Mr Abbas has accused al-Jazeera of distortion and said the papers deliberately confused Palestinian and Israeli negotiating positions.
The Palestinian Authority's rival, Hamas - which controls the Gaza Strip - said the leaks revealed the "ugly face of the authority, and the level of its co-operation with the occupation".