Iranian opposition activists hanged for protest footage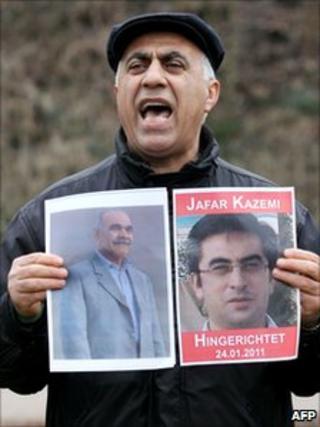 Iranian authorities have hanged two men convicted of taking part in protests following the disputed presidential election in 2009.
Iranian prosecutors said Jafar Kazemi and Mohammad Ali Hajaghaei had taken photos and footage of the protests and distributed them on the internet.
They were also found guilty of chanting slogans promoting the exiled People's Mujahideen of Iran (PMOI).
A PMOI leader in France, Maryam Rajavi, described the executions as barbaric.
The People's Mujahideen of Iran is an exiled opposition group which has campaigned against clerical rule in Iran and, before that, the Iranian monarchy.
It is seen by Tehran as a terrorist cell in the pocket of Western security services but is also on Washington's list of proscribed organisations because of its history of violent attacks.
After the presidential election in 2009, the internet - and specifically social networking sites - became a crucial means of mobilising hundreds of thousands of Iranians who disputed the results to protest.
Hundreds of people were arrested after the protests and although most have been released, more than 80 people have been jailed for up to 15 years, and at least four other people convicted of involvement in the demonstrations are reported to be on death row.