Hezbollah-backed candidate set to lead Lebanon cabinet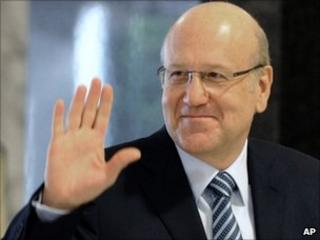 The candidate of the Shia Islamist movement, Hezbollah, and its allies for the Lebanese premiership has won the backing of a majority of MPs.
Najib Mikati, a US-educated billionaire businessman, was nominated during talks with President Michel Suleiman.
Earlier, caretaker Prime Minister Saad Hariri said he would refuse to join a Hezbollah-led coalition government.
The news of Mr Mikati's nomination triggered angry protests across the country by Mr Hariri's supporters.
The US also warned it would be "difficult" for it to support Lebanon with aid if Hezbollah took a dominant role in government.
"Our view of Hezbollah is very well-known. We see it as a terrorist organisation, and would have great concerns about a government within which Hezbollah plays a leading role," said State Department spokesman PJ Crowley.
"The larger the role played by Hezbollah in this government the more problematic our relationship will be."
The national unity cabinet collapsed on 12 January after a row over the UN tribunal investigating the 2005 murder of Mr Hariri's father, Rafik.
Amid reports that its members could be indicted, Hezbollah had demanded the government withdraw all co-operation with the UN-backed Special Tribunal for Lebanon (STL) and denounce its findings.
There are fears that either the indictments or the coalition talks could spark an outbreak of sectarian violence, last seen in Beirut in 2008.
'Out with Najib'
During discussions at the presidential palace on Monday, Mr Mikati won the support of 65 of the 128 members of the Chamber of Deputies.
It was the decision of Druze leader Walid Jumblatt and six members of his Progressive Socialist Party to switch their allegiance away from Mr Hariri that swung the vote.
Mr Mikati, a Sunni, is a successful businessman turned politician who served briefly as prime minister between April and July 2005, after Rafik Hariri's assassination forced Syria to withdraw its troops from Lebanon.
After meeting President Suleiman on Monday, he promised to reach out to all parties if his appointment was confirmed.
"We are all one hand for the sake of Lebanon," he told reporters.
Hezbollah leader Sheikh Hassan Nasrallah also said that if its candidate was appointed prime minister, it would try to form another national unity government that included Mr Hariri's Western-backed Future Movement.
However, Mr Hariri insisted on Monday that he would not serve under anyone chosen by the Iran-backed opposition group.
"The Future Movement... rejects taking part in any government headed by an 8 March candidate," his office said, referring to the coalition which includes Hezbollah and its allies - the Shia Amal movement and the bloc of the Maronite Christian leader and former general Michel Aoun.
Later, supporters of the caretaker prime minister held demonstrations in several cities across Lebanon to denounce Mr Mikati's impending appointment.
Protesters in the predominantly Sunni northern port city of Tripoli - and Mr Mikati's hometown - chanted "Out with Najib" and "Hezbollah, party of the devil", according to the AFP news agency.
"Saad Hariri is the only man who represents the Sunni faith," Sheikh Arslan Malas, a local cleric, told the crowd. "We will not accept Hassan Nasrallah choosing our prime minister."
Under Lebanon's power-sharing system, the post of prime minister is reserved for a Sunni, while the president must be a Maronite Christian and the Speaker of parliament a Shia.
People also blocked roads in several northern towns, as well as the main motorway near the southern coastal city of Sidon, AFP reported. A demonstration is also planned later on Monday in central Beirut.
It is not known if Mr Mikati would end the Lebanese government's co-operation with the Special Tribunal for Lebanon, as demanded by Hezbollah. On Sunday, he told reporters that any dispute could "be solved only through dialogue".
The billionaire is acceptable to key regional power brokers like Syria and Saudi Arabia, and to interested players watching from further afield, including France, reports the BBC's Kevin Connolly.